There are two things I was expecting New York City to have a major affect on: my appetite (increasing, dramatically) and my bank account (decreasing, also dramatically). And I was right on at least one of those counts.
New York has SO many restaurants, cafes, bars, street food trucks, dessert parlours and stores that sell delicious food from all around the world. To be honest, it was hard to know where to start. But with a little research, some great recommendations and a few cases of blind luck, we ended up in some really brilliant eateries. My focus was on finding good food that didn't cost the earth – and I think we did a pretty good job of sticking on a relatively modest budget.
So if you're after some inspiration for affordable places to eat in NYC, here's my list. Settle in, and prepare to get hungry!
Breakfast
New York City has some amazing breakfast options – from the classic NYC bagel to all-American pancakes. We stayed in the Financial District, so the majority of our affordable NYC breakfast are based around there…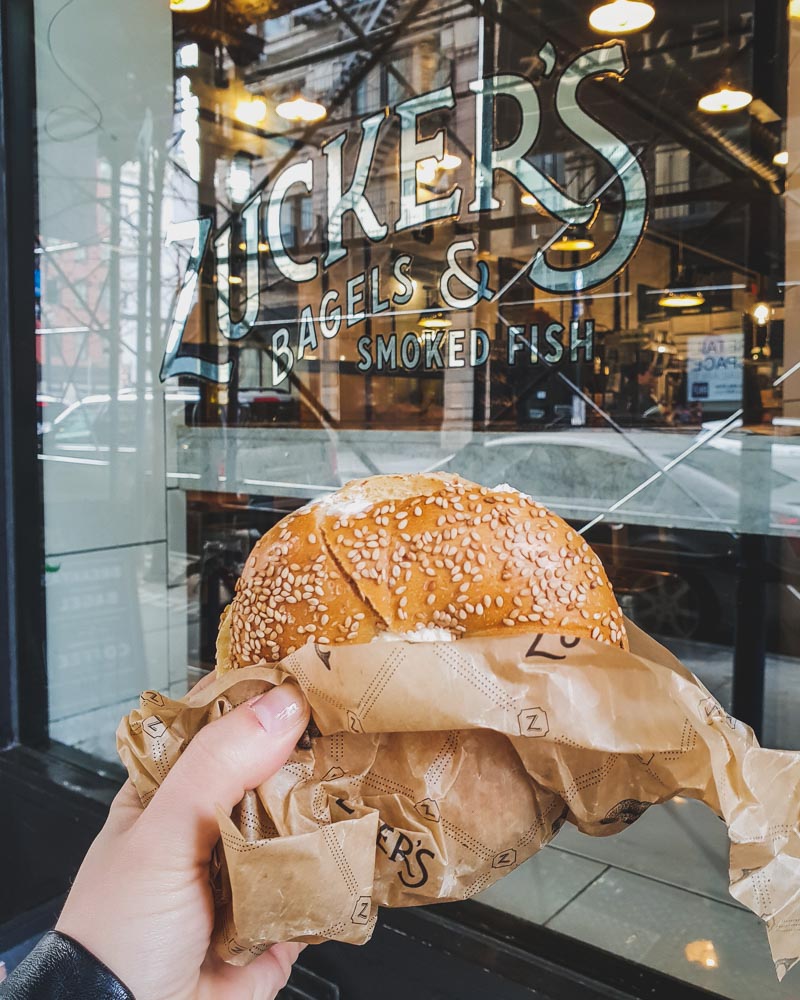 Zucker's Bagels & Smoked Fish (Tribeca & various others)
Because if you don't eat a bagel while you're in NYC, who even are you? The first bagel stop we made was Zucker's, for the first of a few bagel brekkies over the weekend, and it was a big boy! Packed with soft and impossibly fresh tasting cream cheese, sprinkled with sesame seeds, I was hoping there'd be more to come…
146 Chambers St, New York, NY 10007
Website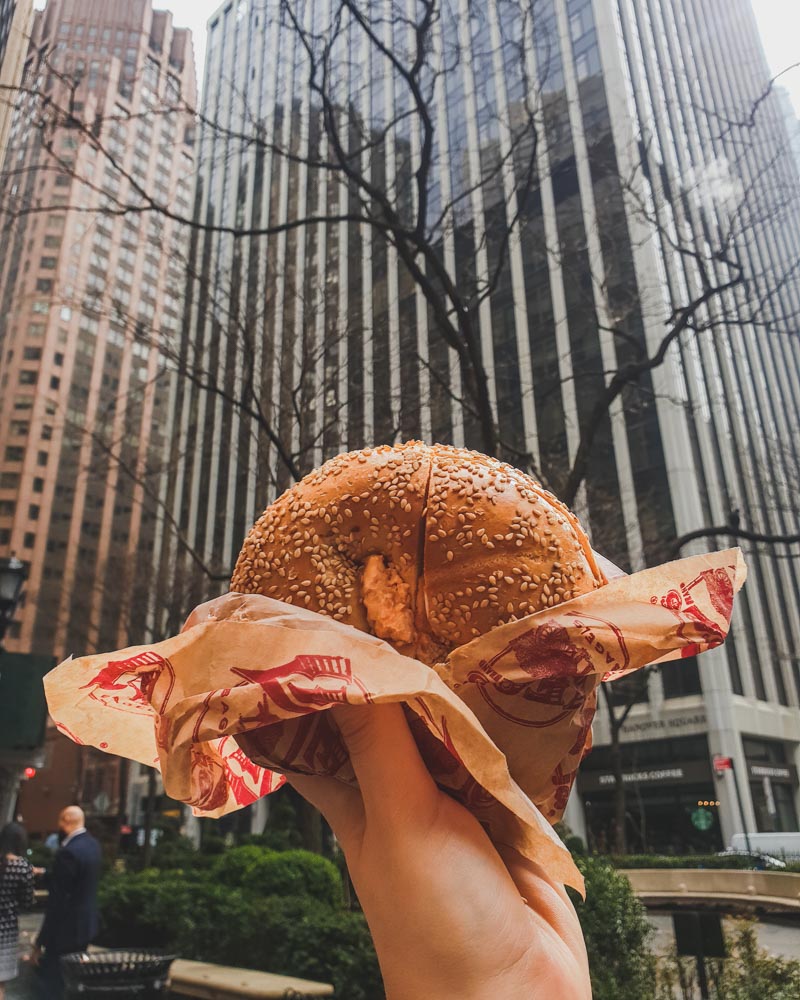 Leo's Bagels (Financial District)
Reader – there WERE more to come. Leo's Bagels is perfectly placed in the financial district for workers to fill up at breakfast and lunchtime. This time, I went for a sun dried tomato and garlic cream cheese, on a poppyseed bagel. I think I slightly preferred the normal cream cheese, but this was still delicious and ridiculously filling.
3 Hanover Square, New York, NY 10004
Website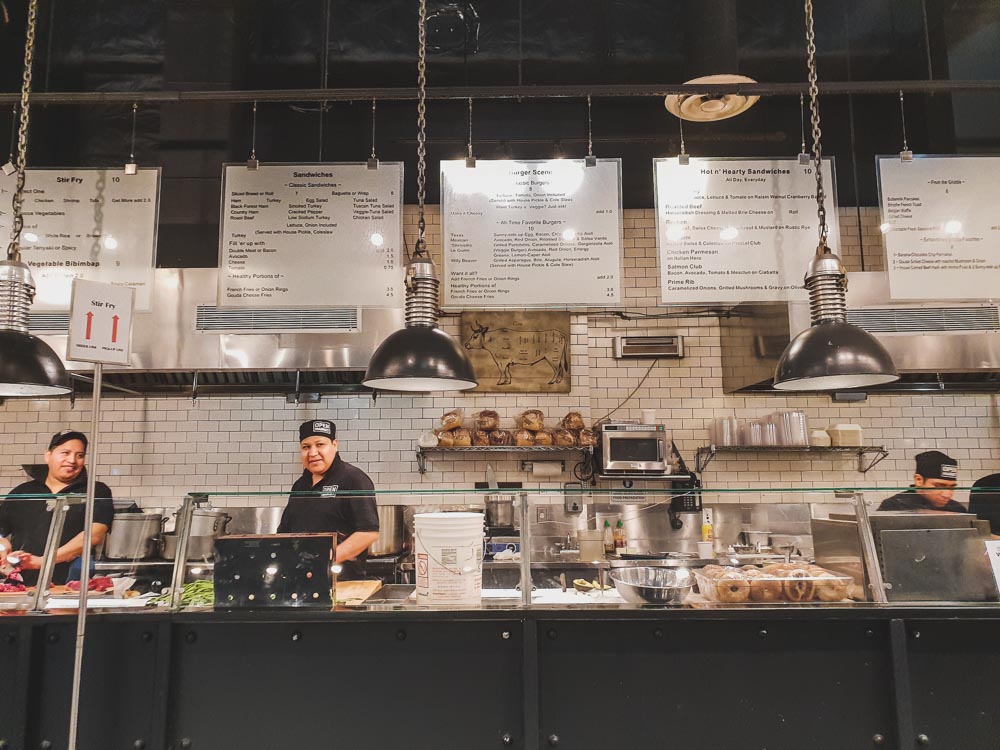 Open Market (Financial District)
This food market with counter service and grab'n'go options
I decided to have the banana and chocolate chip pancakes, and was met with a HUGE portion of proper American-style cakes. Perhaps not the best I've had, but they were still very enjoyable, filling and super chocolatey, which is a plus point for me.
(I also picked up a can of iced coffee which had the equivalent of two and a half cups of normal coffee in. I was VERY lively that morning.)
Lunches and Dinners
I'm pretty sure I spent my entire time in New York disregarding the concept of mealtimes, as there's too much great food, and I had too little time to eat it all in. So the following are either suitable for lunch or dinner, or both. Some you could probably even eat for breakfast (we might have done this with Joe's Pizza…see below!)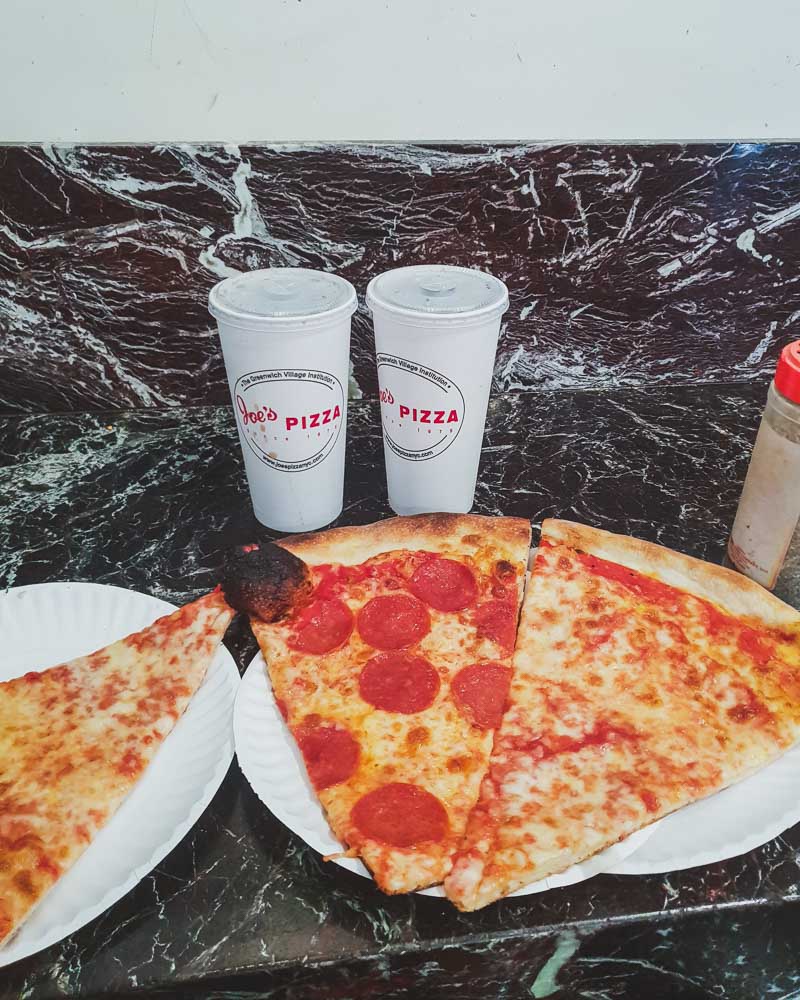 Joe's Pizza (various locations)
Pizza was the thing I was MOST excited about eating in New York, and despite plans to hop my way around a whole list of pizza joints in the city, we ended up going back to Joe's consistently.
Famous with locals and visitors alike, Joe's Pizza have four shops across Manhattan and Brooklyn, including one that happened to be just around the corner from our Financial District hotel. How convenient. The original in Greenwich Village opened in 1975, and has been a staple in top ten lists ever since – with plenty of celebrity fans too.
The thin, cheese-loaded slices went down a treat – and at just $3 a slice, it's an absolute steal when you're eating in a budget in NYC. They're decent sized, sure, but at that price it'd be rude to not have more than one, right?
Various locations
Website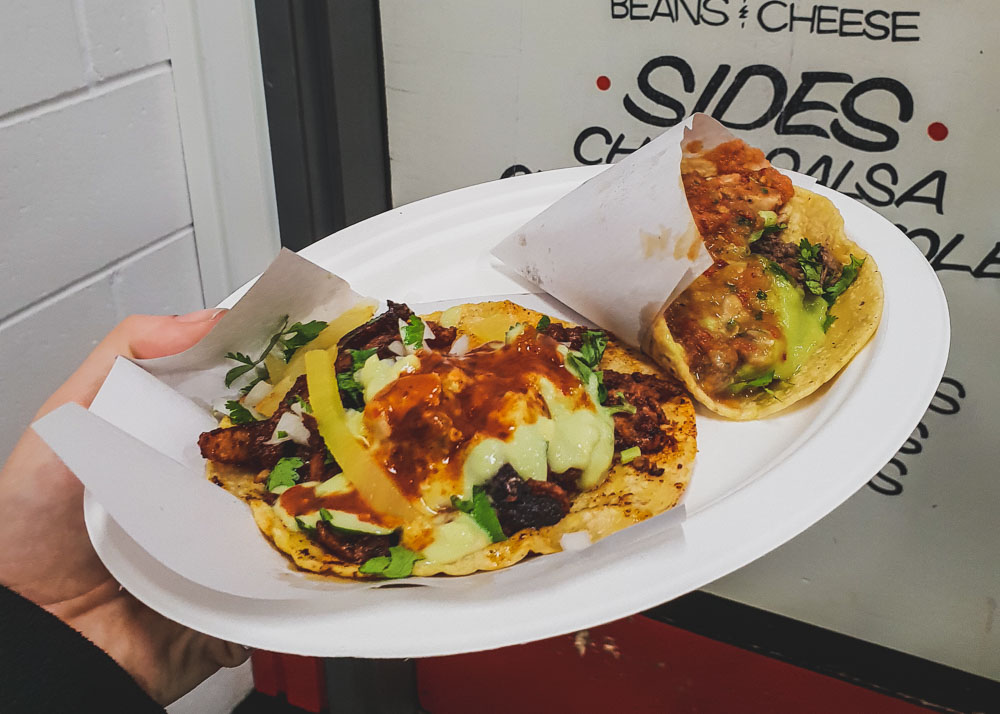 Los Tacos No.1 (Midtown)
Despite breaking out in a bit of a sweat about how busy and chaotic this place looked, it was worth it for the tasty tacos. Just off Times Square, this Mexican joint is ideal for a quick bite with a fiery kick. The tacos we ordered were reminiscent of the ones I devoured on my Mexico trip, delivering a surprisingly authentic feel considering the tourist-centric loction.
229 W 43rd St, New York, NY 10036
Website
Sweet Chick (Williamsburg, Brooklyn)
Sadly I didn't get to spend a whole lot of time in Brooklyn (next visit, it's on!), but one place I *had* to try was Sweet Chick, recommended to me by about five people whose foodie opinions I hold in high regard.
Turns out, they were pretty damn right. We visited on a Saturday, and I chose their much-lauded chicken and waffles ($19) from the weekend brunch menu. Soft, tender chicken in a crisp, slightly-spiced casing came alongside fluffy waffles, served with a selection of butters and – of course – golden syrup. (there's also a vegetarian fried 'chicken' option available!)
I'd also recommend the shrimp and grits ($19) for a taste of Southern hospitality in the east coast's most iconic city.
164 Bedford Ave, Brooklyn, NY 1121
Website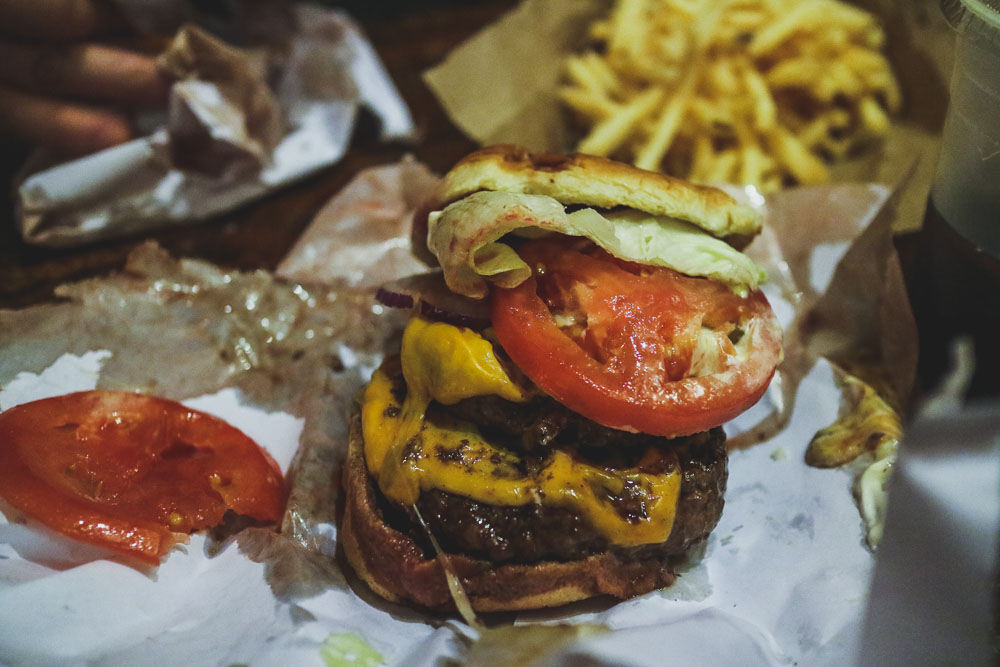 Burger Joint (Midtown)
Tucked away amongst the fancy interiors of the Parker New York Hotel, behind a plush red curtain, Burger Joint isn't somewhere you just stumble across. Widely regarded as one of the best burger spots in NYC, it's one I made a pilgrimage for.
Counter service and unreserved seating give Burger Joint a casual air, complemented by the dive-style interior and walls covered in retro and cult movie posters. Ordering double cheeseburgers ($17) (definitely only needed a single – these are pretty huge), we settled into a booth with two compete strangers.
Sinking my teeth into the juicy patty, with sharp mustard, cool mayo and tomato ketchup making its way down my chin, I enjoyed one of the best burgers I've ever consumed. Worth waiting in line for.
119 West 56th Street, NY 10019
Website
La Pasta & La Pizza at Eataly (Flatiron)
Italian foodie market Eataly is home to multiple restaurants – we chose La Pasta & La Pizza for a homely, warming late lunch. With wine, obviously.
My Cacio e Pepe was wonderfully rich and well-seasoned, and the lasagne was 'mum's best' levels of good. In both instances, the pasta was perfectly al dente with generous portion sizes and attentive service.
Top tip: Head to the dessert pastry counter after for a post-meal sweet treat!
Read more: Eataly Italian Market, Flatiron, NYC
200 Fifth Avenue, New York, NY 10010
Website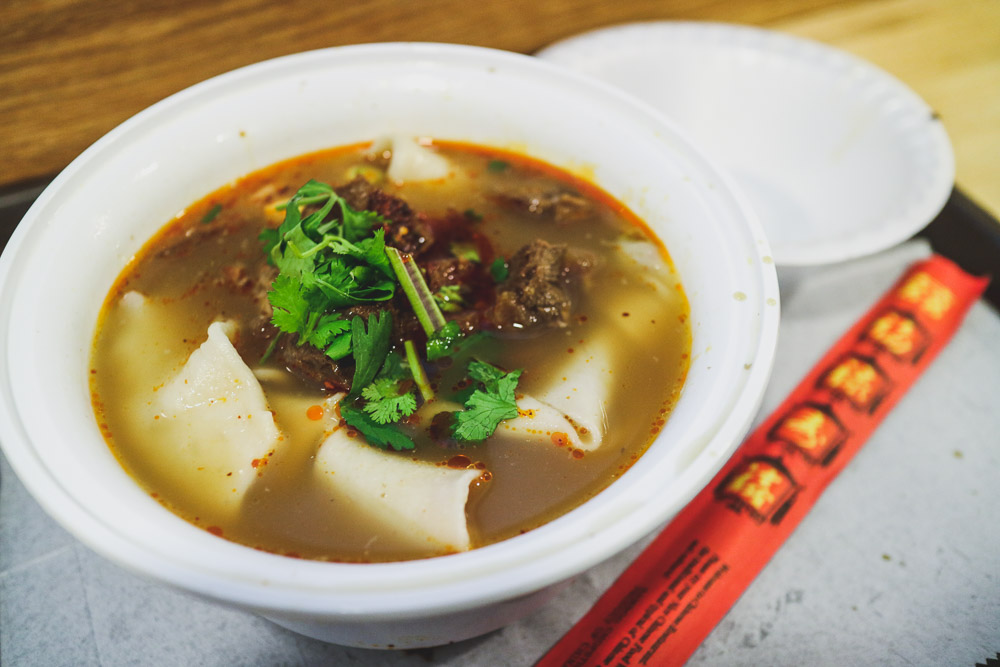 Xi'an Famous Foods (various)
Armed with a list of affordable places to eat in NYC saved to my Google Maps, on our first night, we swung by one of the branches of Xi'an Famous Foods.
The menu is focused around their hand pulled noodles, a world away from what you'd usually find at your local takeaway. I chose the spicy and tingly beef option in soup (you can have them dry or wet).
It might not be the most 'aesthetic' of dishes, and the noodles were a bit complicated to eat, but worth it for the soft consistency and hefty kick of spice from the broth. The beef was deliciously tender – an amazing, authentic taste of China for the equivalent of less than a tenner.
Quick Bites
For when you're too busy planning your route to the Empire State to stop for a sit down meal.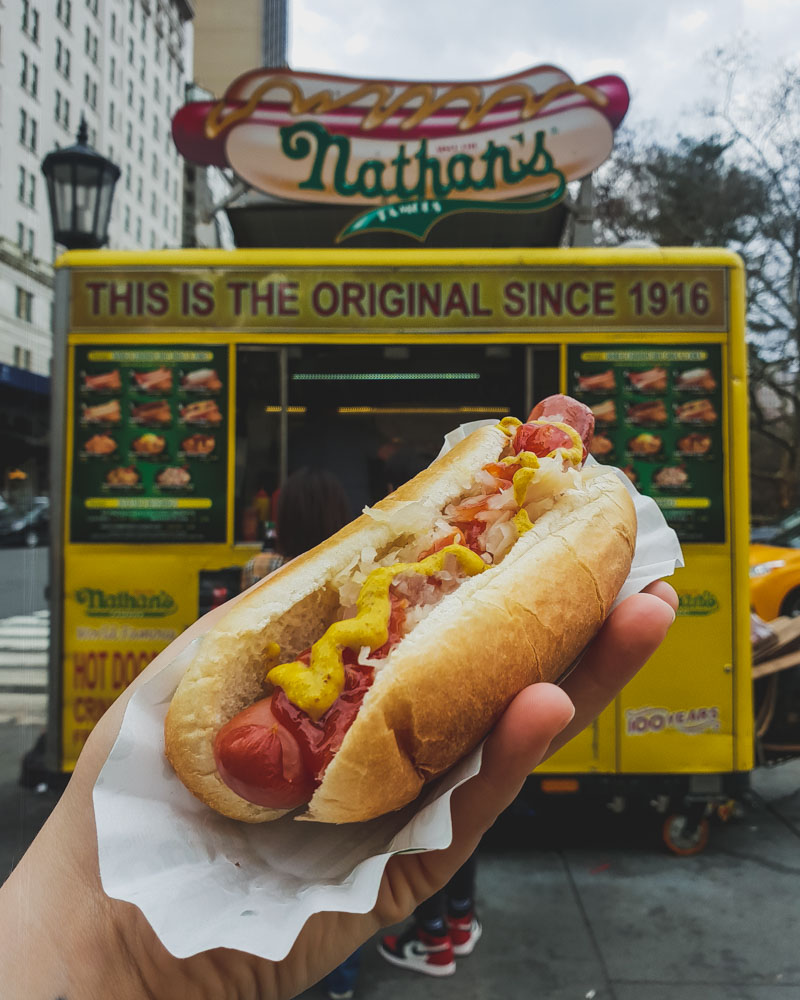 Nathan's Famous Hot Dogs (various locations)
Okay, we didn't make it out to Coney Island, but we still got a taste of Nathan's Famous Hotdogs, a Coney institution. For a stand on the side of the road, these were pretty tasty!
Various locations
Website
Sticky's Finger Joint
Aka my late night junk food REVELATION of the trip. Recommended to us by our Superheroes tour guide Joel, this is where locals apparently go to get their deep-fried, no-fucks-given snacking kicks.
The 'fingers' are basically chicken goujons, served with your choice from an impressive range of dips. It's not fancy, it's not upmarket, but – to steal the motto from a better-known chicken chain – it's pretty finger-lickin' good.
Various locations
Website
Sweet Treats
Go on, you're on holiday – dessert is basically mandatory. With or without dinner first, your choice.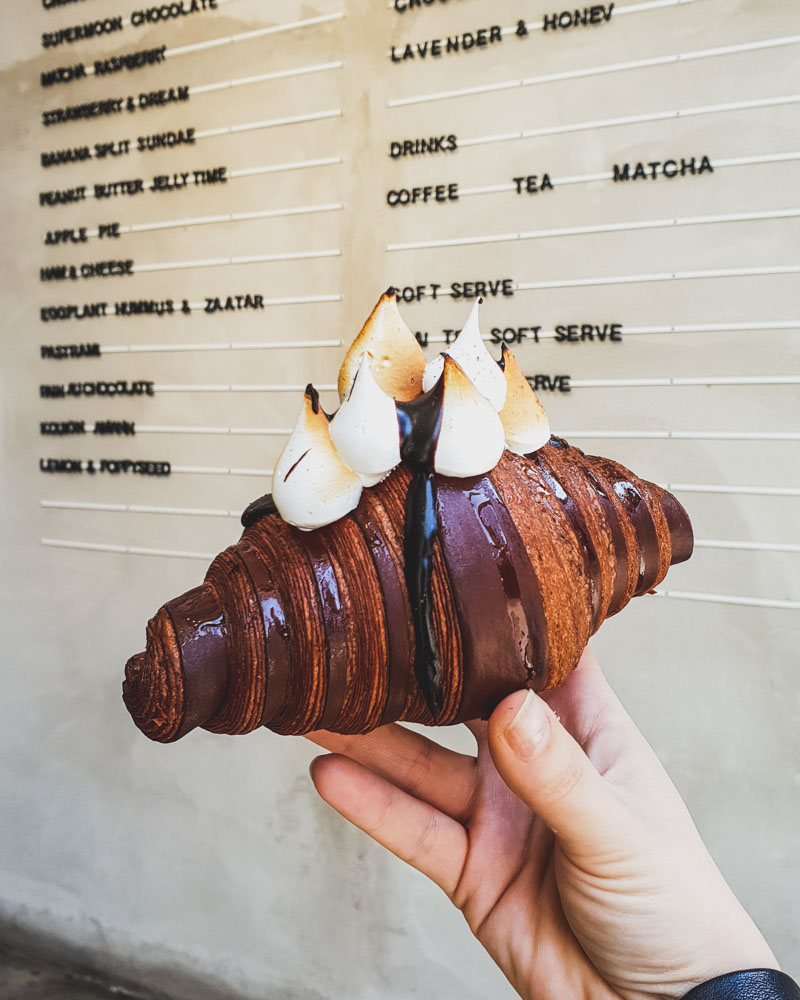 Supermoon Bakehouse (Downtown Manhattan)
Oh. My. Days. New York definitely has some ridiculously epic bakeries, but I wasn't quite prepared for Supermoon. With pastries laid out on a picture-perfect marble surface, this place is so hip it hurts. Thankfully, there was substance with the style and my Supermoon Chocolate Croissant hit the spot.
Chocolate pastry, with a dark chocolate ganache filling, topped with a smores-y meringue and…a bit more chocolate. If you've got a sweet tooth and love to show it, this is the one for you.
Also, my most-liked Instagram post ever. So if nothing else, do it for the 'gram?
20 Rivington St, NY 10002
Website
Insomnia Cookies (various)
We found Insomnia Cookies mostly by accident, when hunting out some sweet treats after a quick and less-than-amazing lunch in Grand Central Food Court.
The cookie sandwich is the sugar-laden one to try here – two cookies of your choice (we went with M&Ms), with a generous dollop of ice cream (Birthday Cake) in between. Sugar coma. Worth it.
Various locations
Website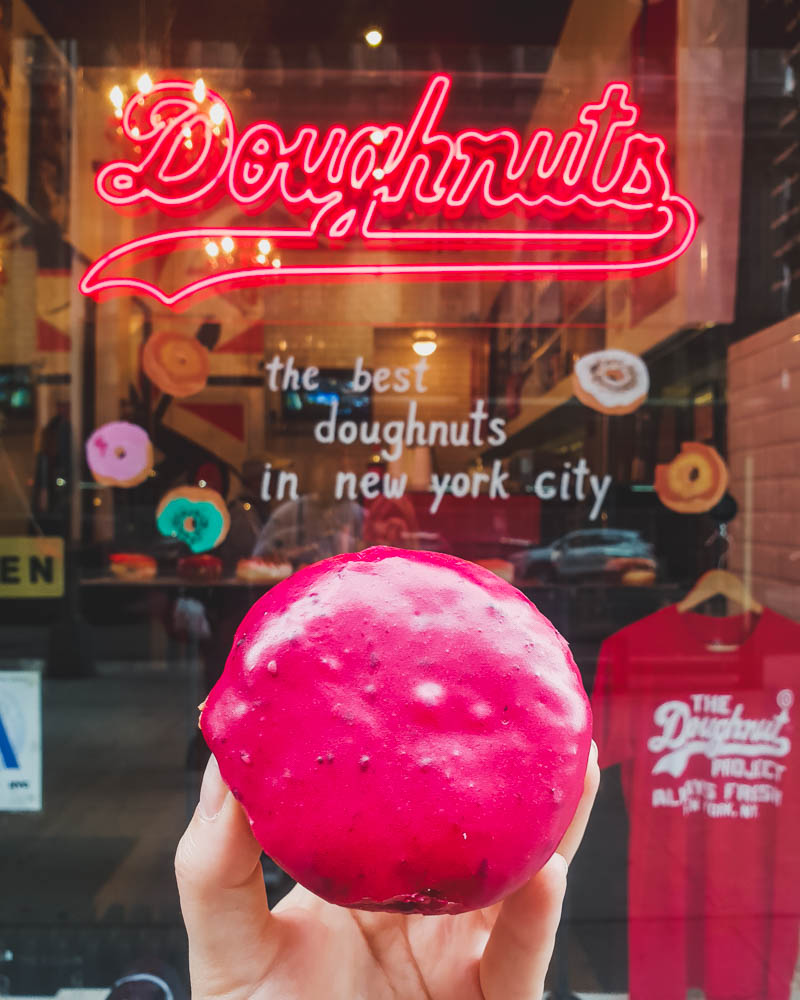 The Doughnut Project (Midtown)
One thing I missed out on during my New York trip? I didn't have anywhere near enough doughnuts. Thankfully the one I DID have was bloody delicious. I went for the classic American taste of peanut butter and jelly, the perfect sweet treat after exploring nearby Central Park.
Cool Mess (Midtown)
One hot day in New York City, a boy and a girl decided to go for ice cream. Their spot of choice was Cool Mess, a second-floor parlour spot that provided a wonderland of fun-looking flavours.
The girl combined 'Cookie Monster' with coconut, sprinkled with chocolate chips. The boy chose a tart, tangy and refreshing sorbet combo of mango and raspberry.
They ate ice cream happily ever after (because it was really good).
Kaylee's Creamery
After a cheeky late night visit to the Sex Museum, what else is there to do but go for even later night dessert? Kaylee's Creamery was on my list of ice cream shops to try, and I'm super glad I got the chance to check it out.
I chose the Pot of Gold – creamy sweet cereal ice cream with mini Lucky Charm marshmallows. I topped it with…more mini Lucky Charm marshmallows, because those things are kinda like sugary delicious crack.
---
I'd love to collect even more recommendations for affordable places to eat in NYC, so if you've got any top spots to share, pop them in the comments!