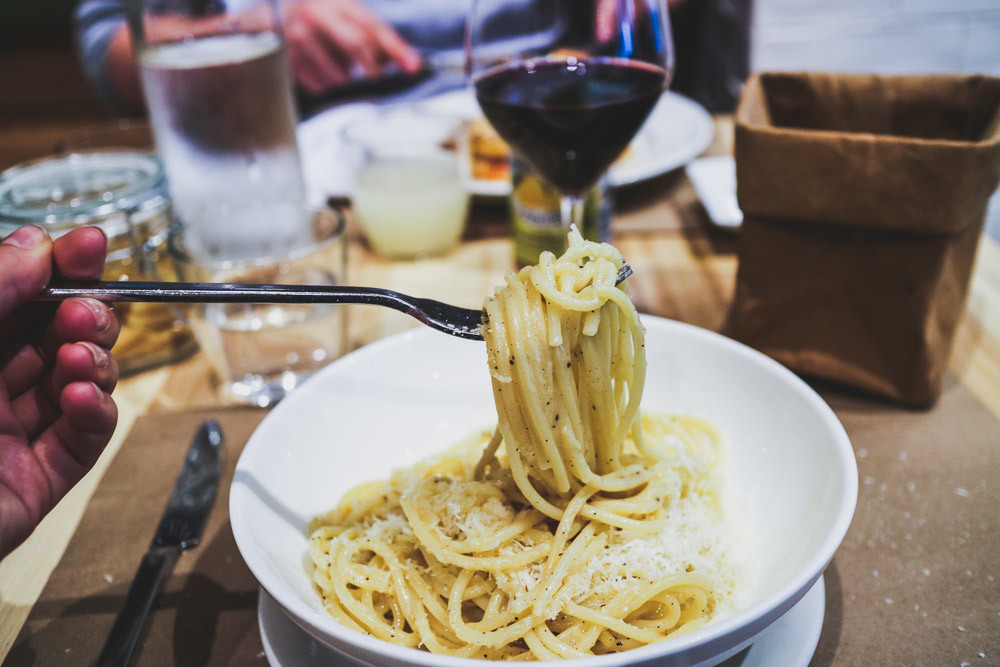 New York has plenty of restaurants of every cuisine to go around, and Italian eateries can be found around every corner. But for a dining experience with a difference, market-style spots offer an exciting way to explore every element of the food you're eating. We discovered Eataly when we were looking for somewhere to refuel during a day's exploring…
Founded by entrepreneur Oscar Farinetti, Eataly bills itself as an Italian marketplace. The first Eataly establishment popped up in Turin in 2007, and now there are 35 locations worldwide – including two in New York City. One can be found in the Westfield World Trade Centre, but the slightly better known New York Eataly is based in the Flatiron District, on Fifth Avenue.
The Flatiron Eataly branch is home to six restaurants, all using ingredients sold in the store to create their dishes. Serra Fiorita is definitely the most-instagrammed restaurant, with a pink-adorned rooftop dining area. There's also a butchery focused restaurant (Manzo) and fresh seafood spot (Il Pesce), but as we were on a bit of a budget we grabbed a table at La Pizza & La Pasta. Which sells…you got it, pizza and pasta.
From a selection of classic Italian dishes, I chose the Cacio e Pepe, which was wonderfully rich and well-seasoned, without the pepper being too overpowering. The pasta proved to be al dente to a point of perfection, and I hoovered up the dish at light speed. Because exploring New York City is hungry work, friends.
I also had a bite of the lasagne, and can confirm that this is 'mum's best' levels of good. Rich tomato and bechamel sauce, and as with the Cacio e Pepe, excellently cooked pasta. Paired with a glass of full-bodied red (I chose the second cheapest, because…I always choose the second cheapest), it felt like an indulgent and authentically Italian meal without breaking the bank.
(even though I did break any ounce of dignity when I accidentally dropped a forkful of lasagne into my wine. Classy, as ever.)
After eating, we had a mosey around the market itself, and pretty much anything that would go into the ideal Italian meal can be found here. Fruit, veggies , meat and, of course, plenty of pasta – both fresh and dried. Looking for a gift for an Italian food lover? Discover cookbooks, cooking sets, utensils and pans that'll bring home little slice of Eataly.
For those with a sweet tooth, there's plenty to delight your tastebuds, including a counter of gorgeous Italian pastries. They're not super cheap, but we picked up four for $6 and they're worth every cent.
Eataly is a super fun place in New York to explore if you're into Italian food (I mean, really, who isn't?!), with a great choice of restaurants. Exploring the market after tucking in and grabbing a few things to take home is a fun post-dinner activity. And based on how good the dishes we had at La Pizza & La Pasta were, you'll definitely be inspired by eating here…
Eataly NYC Flatiron
200 Fifth Avenue, New York, NY 10010
Opening hours: Market open daily, 9am-11pm – restaurant hours vary.
Website