I actually had no idea that Color Factory even existed before spotting it on the list of attractions for my New York Pass. But if you're visiting New York, love colourful travel and interactive art, this is 100% your place.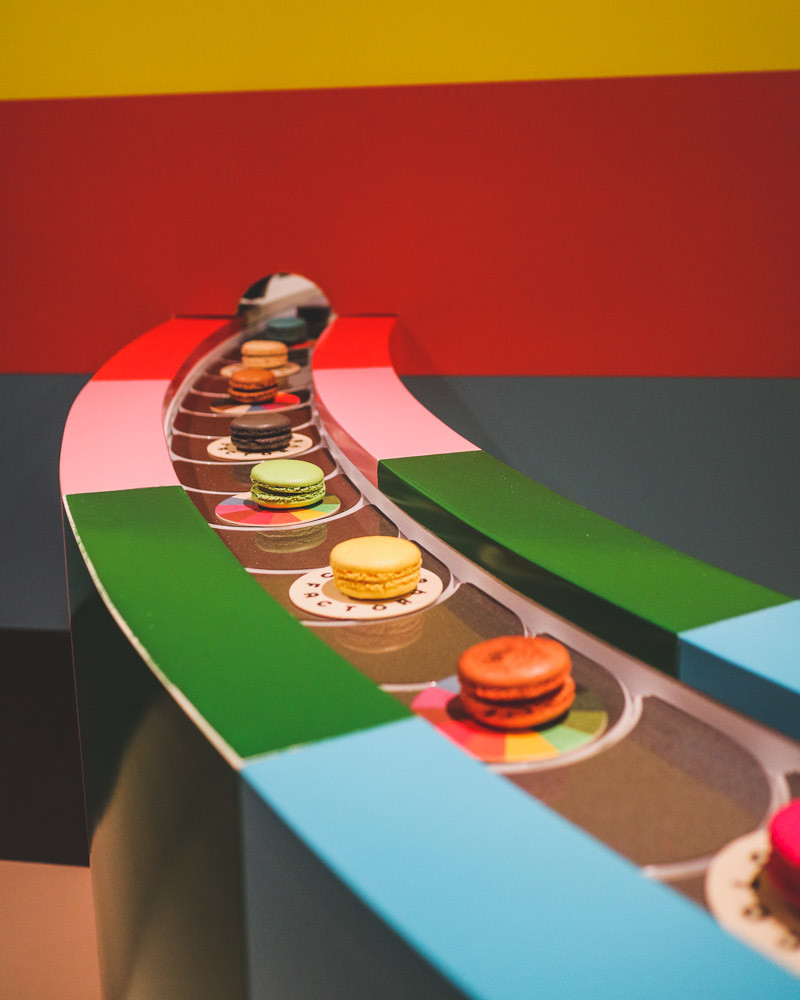 Color Factory is a collaborative, interactive exhibit, with participatory installations inspired by colours collected around New York City, designed to engage all the senses through discovery and play. The original Color Factory opened in San Francisco in the summer of 2017, initially intended to run for a month. It was so popular, it ended up running for another eight, and made its way east to New York in August 2018.
Color Factory's exhibits have been created by a collaborative team including local artists, illustrators, food vendors and non-profit organisations. Through sixteen walk-through spaces, you can experience interactive and fun installations, all centred on the theme of…yeah, you guessed it. Color! (or, for us Brits…colour!)
I have to admit, I'm not the biggest of art buffs. I skipped out on MoMa and gave the Guggenheim a miss. I thought that my visit to Color Factory would probably involve a quick peek around, snap some Instagram shots, go for ice cream. Turns out, I was pretty wrong – although not about the ice cream, at least.
Unlike your usual art gallery, filled with 'hmms' and 'ahhs' at flat canvases and confusing sculptures, Color Factory is a truly interactive exhibit. The first thing you come across? A conveyor belt of macarons, which you're invited to tuck into. Okay, maybe this IS my kinda art gallery after all.
Once you've chosen a coloured badge from the wall, there's a bit of a queue (Americans: line) for the next exhibit. Which is kinda hard to describe, other than it looks like a really colourful prison visitation room, where you draw the person sitting opposite you and have some fun with coloured pencils. The results? Kinda hilarious.
Other rooms include a wind machine propelling metallic beach balls, a floor flowchart that leads you to 'your colour', and a disco room where you can show off your best moves. Each exhibit is really different and creative, and there are little sweet treats to enjoy along the way.
The final stop is probably the most fun you'll have in New York with your shoes off. A giant blue ball pit, which we dived into and had a LOT of Boomerang fun falling over in! After some childlike fun, we had our final childlike treat – a big scoop of blue ice cream. They told us it's squirrel flavour…which I don't think was quite true.
It goes without saying, the whole of Color Factory is super photo-friendly – even the toilets! On entry, you exchange your email address for a card with a QR code – in the rooms, you can scan the code at photobooth points, and your pics are emailed to you the same day, ready to upload to your Insta feed.
At the end of the tour, you pick up a cute souvenir (I chose a whale pin) and can pick up a map that will take you to other colourful spots in the area. At $38 a ticket (which you need to book in advance), for an experience that lasts around an hour (although you can spend as long as you like in the rooms), I initially thought it was a bit pricey. But actually, for the amount you get to see, do, eat and take home, it's pretty decent value. And if you buy the New York Pass, it's included – but I'd advise getting there early in the day, as there are limited walk-up spots for the pass apparently.
Color Factory
251 Spring St, New York, NY 10013 (Spring Street Subway)
Opening Hours: 10am-10pm daily (except Wednesdays)
Read more: How to Hit Every Possible Instagram Hotspot in NYC in 48 Hours