If you know me by now, you know I bloody love a city walking tour. As much as wandering aimlessly can be a fun way to explore, I really like learning a bit more about the place I'm visiting.
Plus, local guides have the best recommendations for post-tour fun/food/drinking.
In Bratislava, we chose to take the Old Town and Castle free walking tour, by Be Free Tours Bratislava, as it seemed like an area with lots of interesting history. And, of course, I was right – we learnt loads. As a taster of what the tour covers, I'm sharing some of the highlights in this post.
Don't worry though – I haven't given it all away. There's plenty more to learn when you take the tour…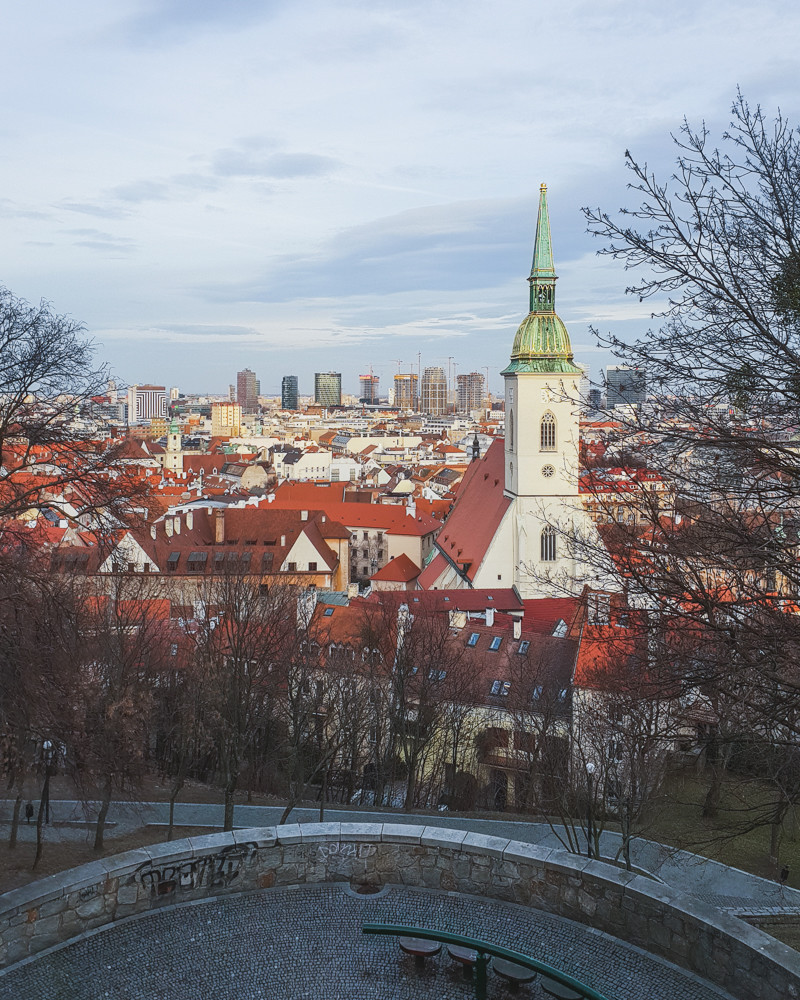 History of Bratislava and Slovakia
After a quick pit stop for some seriously tasty gelato at Koun, we met our Be Free Tours Bratislava guide, Milan. Like the city. But he's not named after it. It's named after him. Obviously.
Before taking off on our walk, he gave us a brief run-down of Bratislava and Slovakia's history, and the fact that a lot of people's first comment is along the lines of 'oh? Like Czechoslovakia?'. The Slovakia region has actually been part of both the Austro-Hungarian Empire and the Czech-Slovak state. In 1993, Slovakia separated from the Czech Republic, joining the EU in 2004.
Bratislava's famous statues
Dotted around Bratislava, you'll find plenty of statues to catch your eye. In Hviezdoslav Square, where our tour began, there's a statue of Pavol Országh Hviezdoslav – a well-known Slovak poet.
And just along the square, there's someone us Brits might just have heard of too. Author Hans Christian Andersen spent some time in the city, professed his love for it (particularly the women and drinks, apparently), and as a result had a statue created in his honour. If going to places and saying they're great is all you need to do…hey Bratislava, you're great. Do I get one too?
UFO Bridge
The UFO tower hovers over the Most SNP bridge. It's also known as the 'New Bridge', a former name, despite the 'Old Bridge' a bit further down the Danube actually being the newer bridge. The name 'UFO' comes from…well, kinda obviously, the fact it REALLY looks like a spaceship.
St. Martin's Cathedral
The Roman Catholic cathedral of St. Martin's was completed and consecrated in 1452, and is one of the more noticeable buildings in Bratislava's old town. We spent a couple of minutes having a nosy around the interior of the cathedral, and its grand décor belies the relatively plain exterior.
FUN FACT: St Martin's Cathedral served as the coronation church for Hungary's monarchs, with 19 coronations taking place between1563 and 1830. To find out why…I wouldn't want to ruin the surprise, so you'll have to take the tour!
The oldest street in Bratislava
Just behind St. Martin's Cathedral, you'll find the oldest street in Bratislava. Kapitulska Street was originally the main pathway for coronations. Communism resulted in the state seizing most of the buildings, and aside from a few colourful facades, the street has fallen into some disrepair over the years.
Bratislava's second narrowest house
"I mean, surely the 'second narrowest' isn't as interesting as the actual narrowest, right?"
What's interesting about this narrow, yellow house in Bratislava's old town is actually why it was built that way. At the time, taxes were paid based on the width of the front of your house. This owner's solution? Build a really narrow house! Genius.
(FYI, if you want to see the actual narrowest house too, it's at Michalská 375/15.)
Bratislava Castle
Rather than hike our way up the steps, the tour took the more winding route up to Bratislava Castle, with stops on the way to look out over the Danube and hear some anecdotes around Czech-Slovak stereotypes.
The castle itself is actually more modern looking than a traditional, 'fairytale' castle. The original building had deteriorated to a ruin, and it was only in 1957 that restoration began to bring it to its current state. There's a lot of history behind it though, which you can learn more about from the exhibitions inside.
The Be Free Tours Bratislava Old Town and Castle tour lasts two and a half hours, and is a really great way to learn more about the city's history. Milan was an engaging tour guide, with lots of personality and interesting anecdotes.
As with all free tours, this one's tip based, and I'd highly recommend you take it (and tip) to find out more about Bratislava and Slovakia!
Free Bratislava Old Town Walking Tour times: Daily, 3pm
Tour Meeting Point: By Hviezdoslavovo statue, Hviezdoslavovo námestie, 811 02 Staré Mesto