If you're planning a West Canada road trip, here are ten (ten!) spots that truly show off the beauty and atmosphere of the Alberta and British Columbia provinces…
Back in June, I got to live out one of the ambitions I've had since I began travelling – a road trip in Western Canada. Having seen the pictures and heard the stories of this incredible place, it was something I just had to do for myself. And, as a stupidly awesome perk of my job, I got to be part of the TrekAmerica annual #iTrekHere trip, taking the route of the Mountie tour.
The road trip took us through the provinces of Alberta and British Columbia, through wilderness and forest, past lakes and waterfalls, and among the daily highlights of mountain-gazing, laze gawping and bear spotting, these are ten of the highlights that anyone travelling in West Canada should add to their itinerary.
Banff, Alberta
After leaving Calgary early in the morning, our first stop was the town of Banff, set in Banff National Park. It's a really pretty town, with the kind of backstreets you'd imagine in a cult classic coming-of-age Netflix show. All the roads are named after animals you're likely to find in the Canadian wilderness. Hello, Grizzly Street!
Maps from the visitor centre in hand, our first hike of this Canadian road trip was up Tunnel Mountain. It was a bit steeper than I'd hoped, being quite out of practice with my hiking – but the views from the top (and middle…and everywhere…) were beyond worth the effort. Also, I bumped into LOTS of friendly Canadian dogs *heart eye emoji* and even saw some elk mooching around on the mountainsides.
For dinner, you have to head to Park Distillery – one of the best restaurants I visited on my trip. Campfire-style food, topped off with a Smoking Smore Bar dessert. Yep. They're as amazing as they look.
Lake Louise, Alberta
One of Western Canada's best-known lakes, and for good reason.
Lake Louise was actually originally named Emerald Lake due to it's bright green-blue waters, but the name was changed when guide Tom Wilson discovered another lake he decided was more deserving of the name (see below). The new name came from Princess Louise Caroline Alberta, daughter of Queen Victoria.
The first views of the lake from the dock are striking enough as it is, but a walk around the lakeside hiking path shows off the amazing colours of the water against a striking mountain backdrop.
I'd also recommend a nosy around the Fairmont Chateau, perhaps one of the most photographed hotels in the world, that dates back to 1890. The decor is as classy as you'd expect, and there are some shops where you can browse and pick up a Lake Louise souvenir or two.
Emerald Lake, British Columbia
Another day, another awesome lake. That's Canada for you.
This one, Emerald Lake, is in British Columbia's Yoho National Park. It's the perfect place to try a bit of canoeing – I partnered up with our tour leader, Heather and we paddled out into the lake for ridiculous views. We got there as soon as the hire shop opened, which meant there was no one else on the lake other than our group.
When I visited, there were actually still traces of snow around the lake edges – in June!-, so we landed our canoe and built a snowman. He's pretty cute, right?
Peyto Lake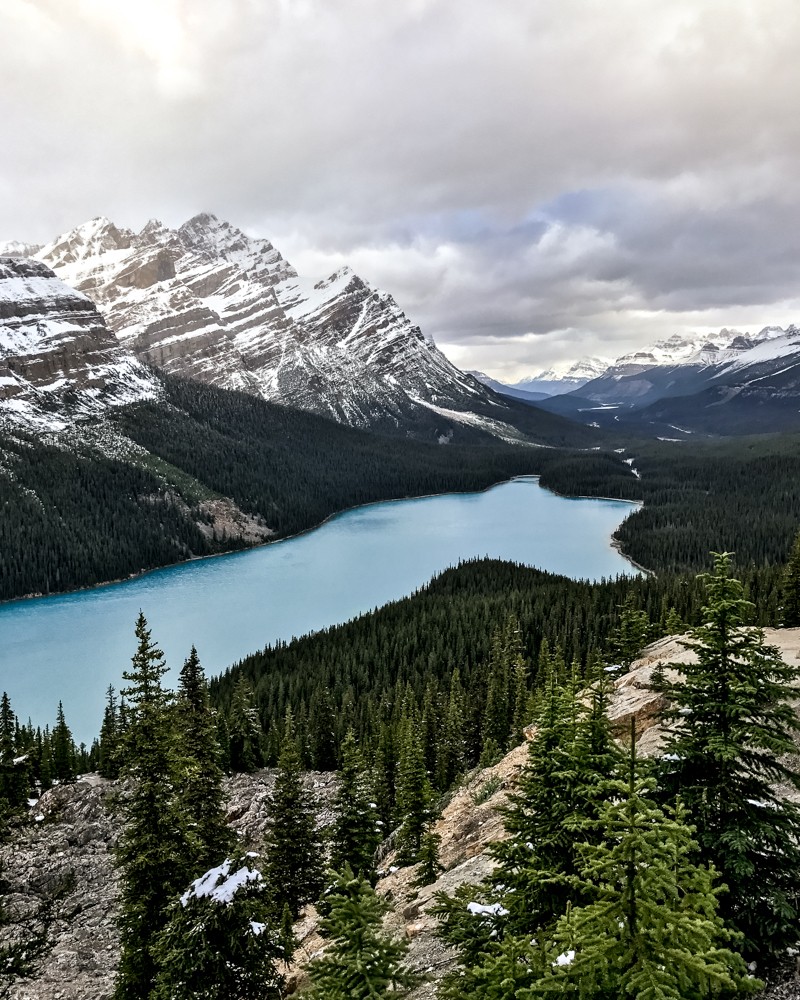 Okay, ONE more lake you should check out. I'll stop soon, I promise.
Peyto Lake can get pretty busy with tourists – but we headed to Bow Summit early in the morning, and actually had the whole viewpoint to ourselves. This is one amazing view. Our tour leaders blindfolded the group, led us down the path to the viewpoint, and did a dramatic unveiling of the lake before us – and the reactions were incredible.
Jasper
If you want another cute little mountain town to follow Banff, Jasper delivers. Just imagine strolling along appreciating the cute, quaint streets, then looking up and BAM. Hello mountains. I think I could live here for the rest of my life and have that never get old.
If you want to see the town from a whole different perspective, the Jasper SkyTram. Taking you to near the summit of Whistlers Mountain, 2,277m above sea level, the town of Jasper (in the shape of a J!) and surrounding area stretches out as far as the eye can see. From the viewpoint, you can even take a small (and maybe snowy) hike up to the summit of the mountain.
For lunch, I can recommend Jasper Brewing Company for some amazing poutine that I basically INHALED. If you're keen to get a taste of the local ales, there's a tasting flight where you can try six of them – and you can even get yourself a tour of the brewery itself at certain times. The Blueberry Vanilla Ale was a particular highlight!
Athabasca Glacier
How does walking on an ACTUAL GLACIER sound for an unmissable experience? Donning sexy yellow jackets and waterproof trousers, we strapped on our crampons and made our way out across the ice. If you're worried about slipping over, the crampons really help. I mean…I STILL fell over, but that's just my standard, really.
It's not something you can do by yourself, but IceWalks provide a guide to show you the safe places to walk as well as giving loads of info about the glacier itself. Athabasca Glacier is part of the Columbia Icefield – the largest icefield in the Canadian Rockies. On our walk, we filled our water bottles with refreshing glacier water, and held ice in our hands that could be hundreds of years old. If you don't like hiking/can't hike, there IS a bus option, but the walk was something special that I'd highly recommend if you CAN manage it.
Looking back at how far onto the glacier we'd come was impressive; but more impressive was how much further the icy landscape reached. But it might not be around for long. The glacier is shrinking by more than 5 metres per year, which means it could be completely gone within our generation. Learning this was one of those moments that really puts into perspective what humankind are doing to their earth – and made me think personally about how I treat the world we live in. It's a true natural wonder – one everyone should see, and everyone should do their best to protect.
Mount Robson Park
See Also
And sorry, guys. I'm not quite done with lakes yet…because Kinney Lake is a beauty. In Mount Robson Park, there are some amazing hiking trails – one of which leads you to this epic lake. There are stone 'beaches' around the lake, which make for perfect lunch spots. Tucking in to a classic TrekAmerica wrap, I couldn't think of many better places to bring your picnic.
Wells Gray Provincial Park
While Banff, Jasper and Whistler may be popular places on any West Canada road trip, Wells Gray Provincial Park is a slightly lesser-visited destination. But believe me, there's plenty to be seen.
Wells Gray is known for its waterfalls, with over 40 named falls in the park, Our first stop was the biggest name amongst them, Helmcken Falls – a 141m high spout of water crashing down to the river below. As a contrast, Dawson Falls is only 20m high, but a completely different style of falls, stretching across the whole width of the river. Apparently Dawson has the same proportions as Niagara Falls – but on a much smaller scale, of course!
Many of Wells Gray's waterfalls are easily visited by car, but for Moul Falls, you'll need to take a bit of a hike through forest and meadows. It's worth the effort of the switchbacks that lead to the viewpoint, because when it's safe to do do you can actually walk behind Moul Falls.
Whistler
I've actually never been skiing – so had no idea what a ski resort was actually like. Turns out, they're pretty awesome. The town of Whistler is a mecca for adventurous travellers, all about working hard and playing harder. There's such a fun, laid back vibe here and it's a great way to unwind after days on the road. If you fancy some food, Sushi Village does a good 'treat yo'self' sushi menu, and Zog's Dogs is perfect for a quick bite to eat.
During the daytime, a few of us decided to take the Peak2Peak mountain gondola. It's a record-breaking gondola (cable car) that stretches unsupported 1.8 miles from Whistler Mountain to Blackcomb Mountain. The views (something I've talked about plenty in this post…) are truly something wonderful, with Whistler itself a cluster of pinpricks amongst the trees and the mountains from the top of Blackcomb.
Peak2Peak Tip: There are a handful of 'glass bottomed' pods that you can wait for – we found the queue to be much smaller on the journey back, although actually, it wasn't THAT impressive and the normal pods are just as cool.
Vancouver, British Columbia
Our Canadian road trip came to an end in the city of Vancouver – and sadly, we didn't have much time to explore. But even from our walk around Granville Island, it really feels like the kind of city I want to explore more. Stopping by the Public Market, packed with street food and market stalls, I grabbed a Mexican burrito bowl and took a seat by the bridge, reflecting on an amazing adventure with newfound friends. Blissful.
Pin it for later!