A couple of weeks ago, I took myself off on a little solo adventure to the Swedish capital, having had Scandinavia high up on my European travel bucket list for the longest time. Arriving mid-Sunday and leaving late Tuesday night, I gave myself around three days in Stockholm.
If you're thinking of heading to the Swedish city, check out my 3 day Stockholm itinerary for ideas on what to do – especially if you're on a budget!
3 Days In Stockholm: Sunday
I flew into Stockholm's Skavsta airport early Sunday afternoon – which, be warned, is actually quite a way out of Stockholm. It's 80 minutes on the bus into the city centre, but you get to take a nice little ride through the Swedish countryside, I guess?
It was quite a walk from the bus station to my home for the weekend, but it helped that a big part of the walk was through Gamla Stan, Stockholm's Old Town. I was immediately pretty taken by it all – certainly a great first impression.
Where to stay in Stockholm: The Red Boat
I checked into my hostel for the weekend. And hey…it's on a BOAT. Yep. Hotel Den Röda Båten, aka 'The Red Boat', is an actual floating hotel-hostel, where I managed to get myself a super cheap private single room. While it's not luxury by anyone's standards and can get slightly noisy, it's clean and comfortable enough for a couple of nights if you've got some earplugs. And…y'know…it's on a BOAT.
By the time I'd checked in, it was getting a bit late to do most 'daytime' things, and I'm not the hugest fan of 'going out' in the evenings when I'm solo travelling. Instead, I had a think about some more alternative things to do in Stockholm.
A Subway Art Tour
Riding around on the underground network for a couple of hours might not sound like your idea of an excellent time. But trust me, Stockholm's Metro is pretty special. 90-ish of its 100 stations have some kind of artwork, ranging from small pieces on the wall to huge-ass mega epic pieces that transform the whole station.
Read more: A Self Guided Stockholm Metro Tour
Dinner at Flippin' Burgers
In the middle of the tour, I also stopped off for a bite to eat at Flippin' Burgers, somewhere I'd seen praised a fair on t'internet. Totally warranted. Lively atmosphere, great burgers and pretty affordable at around £15 for a meal and small beer. What to order? The BCP (Bacon, Cheese, Pickles) is delish.
After exploring and eating, I took a dusky walk through Gamla Stan – the old town – before heading to bed, because I left the house at 5am that morning and REALLY needed a big sleep.
3 Days in Stockholm: Monday
Big sleep, achieved.
One of the slight problems you'll find with being in Stockholm on a Monday, especially in the off-season for travel, is that lots of places to visit are actually shut for the day. Luckily, I'd planned a few things in advance, so I had a relatively scheduled itinerary.
Royal Canal Boat Tour
First on the agenda, as if staying on a boat wasn't enough, I decided to book a Royal Canal Boat Tour because #ihavethisthingwithboats, okay? This was proper sightseeing stuff, but the actual boat tour was super quiet, meaning I got a good vantage point outside (and another good one inside when I decided it was too cold on the deck).
Stockholm's waterways are fascinating, with loads of interesting things to spot along the way. My only regret is probably that I didn't do a longer tour of more of Stockholm's archipelago!
Sausage at Ostermalms Korvspecialist
Ever on the hunt for cheap eats, I heard that Ostermalms Korvspecialist was a great place to grab lunch. And if you like sausages, you basically HAVE to go here. It's a slight walk into the quite upmarket Ostermalms neighbourhood of Stockholm, which is actually pretty cool to look around in itself.
There's loads of different types of sausage to choose from – spicy, cheesy, classic. (I chose the Sremska, which is medium hot.) And then you get to eat THE MOST GLORIOUS of sausages in the world. Seriously, this ranks up there with the best street food I've eaten, like, ever. Get a double size portion. You won't regret it.
Read More: Eating on a Budget in Stockholm, Sweden
Exploring Gamla Stan
With a bit of time to kill between activities, I had a sit down and warmed up with a white chocolate latte at Sara's Art and Coffee. It's a super cute little coffee shop in Gamla Stan, perfect for arty folk and some classic people watching out of the window.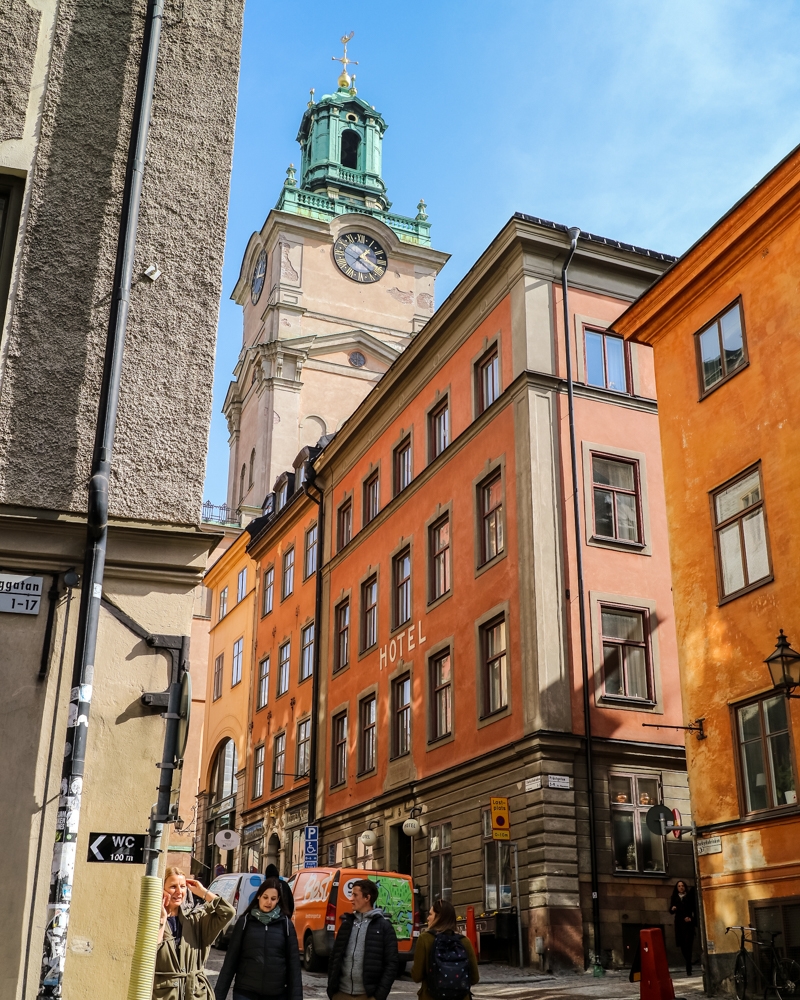 Residential buildings in Gamla Stan

Graffiti on the Old Town walls
Old Town Walking Tour
Those who know my travels know that I love a good 'free' walking tour (inverted commas because you're kinda really supposed to leave a tip), so the Stockholm Old Town Walking Tour was something I'd already pencilled in. It was a great way to learn a bit more about the beautiful, burnt orange and red buildings I'd been admiring and some of the best places to visit in Stockholm's Old Town. It was quite a big group though, and I did struggle to hear during some of the stops.
Meatballs For The People
I clearly have a thing for walking ages out of the way to find the best restaurants. But if it's as good as Meatballs For The People, it's definitely worth it. The Scandi-cool interiors are just what I'd expect from a restaurant here. Wood panelling, faux fur rugs and plenty of candles.
Ordering my Venison Meatballs with Mac and Cheese, which arrived around 10 minutes after I paid, I took to a table to gaze out of the window while tucking in. Again, I was taking advantage of a lunch deal (which ended at five which is BASICALLY tea time), so it was around a tenner for my dish.
Stockholm's Haunted History
It wouldn't really be me if I didn't get some kind of creepy tourism into the trip, right? I booked the Stockholm Ghost Walk on a whim of not being sure what to do with my evening – turns out, that was an excellent decision.
Tour guide Lewis showed us round the Old Town, revealing its more spooky and bloody historical stories. I visited a fair few of the locations as on the Old Town Walking Tour, but hearing a different side to them, which I really enjoyed.
3 Days in Stockholm: Tuesday
When I booked my flights, I managed to find a return just after 9pm on the Tuesday, which basically meant I had the whole day to spend in Stockholm. In the morning, I packed up my things, said goodbye to the Red Boat and hello to a busy day of squeezing everything else I wanted to see in (and LOTS of walking, so it transpired).
With my sensible logistics brain on, it made no sense to leave my trusty Cabin Zero backpack at the hostel, so instead I found a locker for it at the Stockholm Bus Terminal.
Museums, museums, museums!
Exploring time! As most of the free museums hadn't been open the day before, I'd made a list (and marked on Google Maps) of ones I wanted to visit. Talk about organised.
Based purely on the fact it was the first of the free museums to open that day, Stockholm's Moderna Museet (Modern Art Museum) became the day's first port of call. I don't tend to go in for art galleries too often, but this one had some pretty cool exhibits, including propaganda, photography, sculpture, video and mixed media. Considering it's free to view, it's a pretty extensive collection – and the building itself offers some quite lovely surrounding views of the city.
Stockholm's Royal Armoury museum was one that surprised me with how much I enjoyed it. I thought it was going to be just a display of…well, armour…but actually, it was much more focused on royal history. The display features royal carriages, costumes and personal artefacts. The pretty captivating love story of Marie Antoinette and her suspected lover, Swedish count Axel von Fersen, is a key thematic thread in the current display – and it's SUPER JUICY.
Traditional Swedish food at Magnus Ladulås
One of the things I learnt quickly about eating in Stockholm? That the best way to keep costs down is by taking advantage of lunch deals in restaurants. Most of the places I went to for food were planned out, but my visit to Magnus Ladulås was a total spur of the moment decision. With a cosy, wooden-beamed interior and the promise of a traditional Swedish meal for around a tenner, I decided to give it a go.
Turns out the pancakes and bacon meal I got served was rather tasty – a little overdone, perhaps, but the lingonberries gave it a delicious sweet and sharp kick. Plus, as well as the actual main dish, you can get unlimited self-serve soup, salad and coffee – making it a pretty decent deal indeed.
The Medieval Museum
Post-lunch, it was back to the museum trail, with the one I was most looking forward too. I love getting all Horrible Histories-y about medieval times, and it's one of the most interesting eras for me. So I was pretty excited about dropping by Stockholm's Medieval Museum. It didn't disappoint – covering everything from architecture to everyday living, religion, children's activities, medicine and loads more.
I also picked up the audio guide for this one, because I'm a big keeno. It's less than £2 to hire so not a bank breaker, but I'd say it's pretty unnecessary, quite clunky and I ended up giving up on it and reading everything on the walls instead.
Skansen Open Air Museum
Originally, Skansen wasn't on my agenda for the day. I'm not sure why, as it's one of the biggest attractions in Stockholm. I mean…I do know why. It's not a free one. But with a bit more time than I expected in the afternoon, and a bit more money than I expected in my pocket, I decided to give it a go.
Skansen is the world's open air museum, depicting Swedish life and culture throughout history. One of the major
Note: If you're anti-zoo, there are a few animal exhibits here (bears, moose, wolves and smaller animals like pigs and rabbits) – whether you avoid those sections or Skansen as a whole is up to you.
Discovering Swedish History
I didn't actually have much time to explore Historika, the Swedish History Museum, as it was closing soon and I needed to catch an airport bus. But when I arrived, I made a beeline for the Viking exhibition. One of the world's largest. Which I loved a bit. I got to sit in a dark room and listen to stories about Thor and Odin, and learn some cool stuff about Norse mythology while checking out actual things from that time period.
As well as the Viking exhibition section, you'll also find lots of Swedish history stories, some interesting anthropological displays and some snazzy gold artefacts from the Middle Ages.
After spending time chilling with the Vikings, it was time to head home.
I got the second to last airport bus (they're scheduled around flights, which is pretty cool) to Skavsta airport – turns out, I could definitely have got the last bus. This airport is TINY, with basically no security queue and f-all to do, so I'd advise getting here as late as you possibly can. With too much time on my hands, I ate some terrible chips, called my mum, drank an overpriced beer and updated my Instagram stories.
My 3 days in Stockholm firmly placed it as one of my favourite European city destinations, for its unique character, awesome museums and fascinating old town architecture!
Getting to Stockholm
Stockholm has multiple airports, served by the majority of carriers. Bromma is the closest, only 4km from downtown Stockholm, but it's only really served by domestic flights with a few further flung domestic destinations. Arlanda (37km), Västerås (110km) and Skavska (100km) are accessible from a range of international destinations – the budget airlines tend to fly in to Skavska, and the bus journey takes around 80 minutes, departing in line with flight arrivals.