After exploring ancient Mayan archaeological sites and spending time in the jungle in Mexico, it was most definitely time for some more laid-back pursuits. Beach, anyone?
It's a bit of a secret spot, and often overlooked for nearby party towns, but Majahual is a bit of an unsung gem along the Yucatan Peninsula coast, and our short time spent there was a favourite part of my Mexican adventures.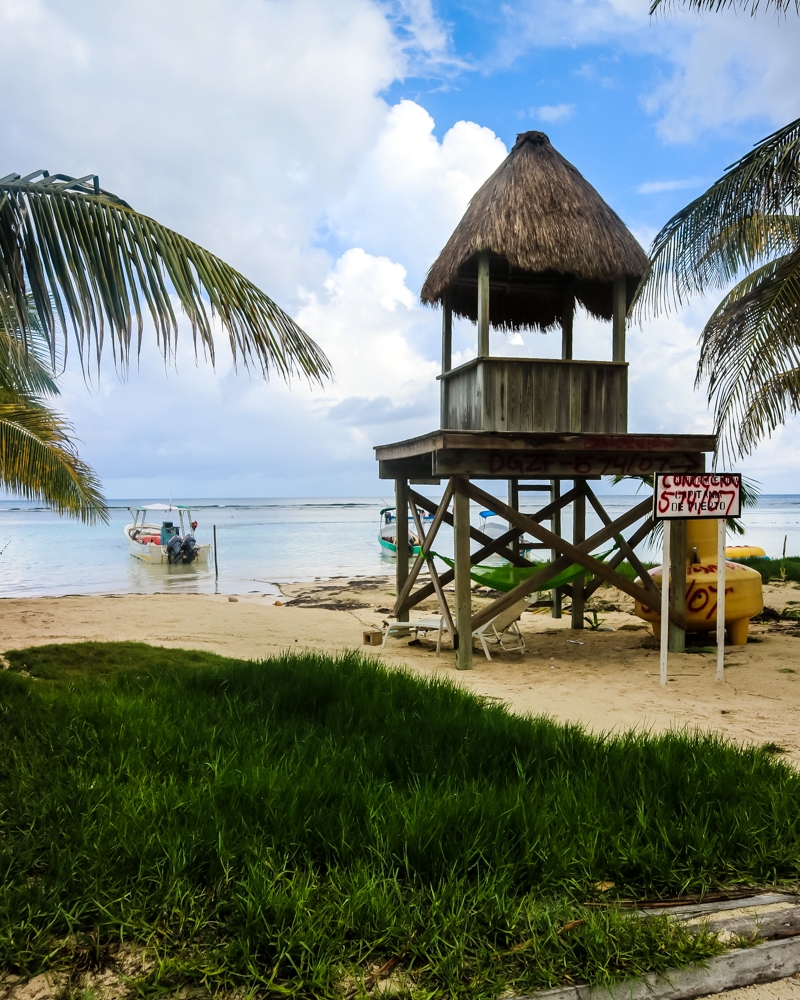 We arrived to rain – having been pretty fortunate with the weather so far, it seemed like our luck had run out a little. Thankfully, it was very stop-start and as we arrived at Las Cabañas del Doctor for two nights, it had cleared up enough to get ourselves in and even have a moment to chill on the (still slightly damp) hammocks.
The very first thing I did though, was completely lose my mind and squeal excessively that one of the hotel's residents happened to be the TINIEST, CUTEST little puppy girl you ever did see.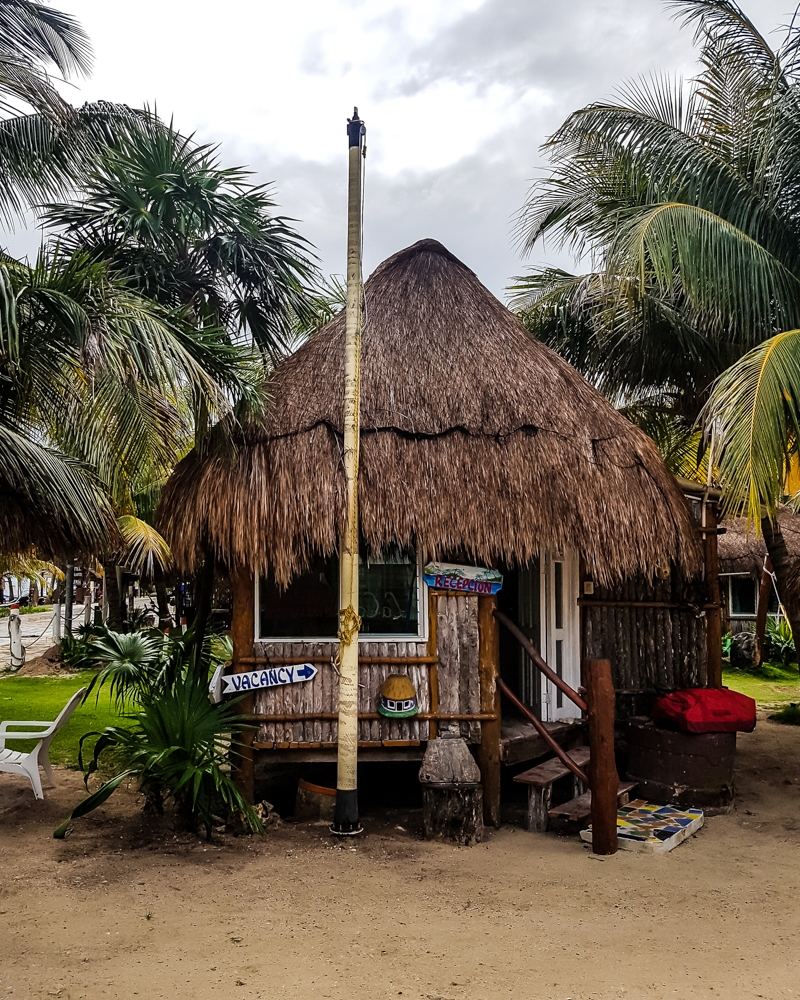 Las Cabañas del Doctor is a small, beachside hotel, with a mixture of cabins and rooms. We were staying in the brick-and-mortar building, with a balcony walkway out front, from which we could see the sea peep out from behind lush palm trees. It has its own beach area, as well as a kitchen serving up simple eats and beers to drink in the communal area.
A snorkelling trip was on the agenda for the afternoon, and although the changing weather threatened our adventure, we went ahead with our afternoon out on the water.
As we made our way to the boat with our snorkelling guide, the pitter patter of rain falling from the sky turned into a full-on downpour. But none of us were willing to back out and walk back to the hotel, so we hopped aboard the boat and headed out to the reef that lay just beyond Mahahaul's shores.
And it was worth the effort. Despite struggling with the slightly choppy water, and the tightness of my brand new flippers as I kicked my way around, the reef below us was fascinating to see. Below the waterline, there was a peace that took me a world away from the beating rain that hit down on my back. And the real highlight? Spotting an actual turtle making its way across the seabed amongst the rocks.
After a couple of hours out on the water, appetites were pretty huge. Luckily, we popped a couple of doors down to a local pizza joint to grab some much-needed dinner.
Obviously, when there's a drink called 'Devil's Fart' on the menu, some idiot will be ordering it. That idiot is usually me, and this time was no exception. With tequila, rum, whisky and probably some other spirits I've forgotten about, this drink gave one HELL of a kick.
Our tour guide, Dalai, had picked up some freshly caught lobster from a local fisherman. I've never been a huge lobster eater, but having tasted it with such little time from sea to plate, I'm a huge convert. So delicious, and amazingly fresh. The margherita (not margarita) I ordered was still delicious, but who'd have thought, for me, that some lobster would outshine a pizza?
After eating, we wandered along the main 'strip' and perched on swings at a bar, followed by a pretty lengthy, beer-fuelled karaoke session. But the less said about that, the better…
The following morning allowed for a bit of a luxurious laze in bed, watching a tiny gecko dart its way across the ceiling, before breakfast. The most important meal of the day came courtesy of a nearby bakery, which became our morning go-to. Cheap and cheerful, with mis-labled cheesecake that was actually a tiramisu and big frappucinos, and nice filling paninis that, for some reason, took ages to arrive.
Along the Mahahaul shoreline, plenty of beach clubs await, often with enticing offers of a free welcome drink. After scoping out our options, we settled on The Krazy Lobster. Grabbing sunloungers right on the beach, it wasn't long before I made my way into the water, a welcome respite from the heat of the sun. Some of the group headed out in kayaks, and others went for a second helping of snorkelling, but for once, I opted to sit back, relax and appreciate my surroundings
I'm usually one of those people who gets a bit antsy sitting on the beach for too long – but with good company, I found that I barely even touched the page-turner in my bag. Bahama Mamas and Mojitos were sipped, and plenty of Instagram-worthy beach snaps were taken. Even when the rain started to fall in a brief deluge, we sheltered under umbrellas and continued the conversation. Almost as soon as the rain began, clear skies hit the horizon, and we were back to our sun loungers pretty sharpish.
Like many destinations in Mexico that attract tourist visitors, vendors selling their wares lined the street at the busier end of the town. But they seemed politer and gentler in nature than we'd encountered elsewhere, and a simple 'gracias' with a shake of the head and a smile is more than enough to carry on your way.
Despite the weather's hit and miss nature, Mahahaul captured me more than I'd expected. Far more relaxed and less tourist-centric than the larger locales of Playa del Carmen and Cancun just up the coast, it had a small-town vibe but still plenty going on.
Given the chance, I'd be happy to head back for a longer stay, living the beach life and enjoying the laid-back vibes in this off-the-beaten-track Mexican seaside town.
Pin it for later!