Okay. So. Berlin, basically, is awesome. It's a place I've always wanted to visit, but never got around to – in fact, the long weekend I spent in both Hamburg and Berlin was the first time I'd ever been to Germany. And after how much I enjoyed both places, it definitely won't be my last.
To start off my Berlin-related posts, I thought I'd share a bit of an overview itinerary of what I got up to. There are a couple of parts of my trip that I've posted about individually, because I want to go into more depth – all linked in the relevant parts of the itinerary!
Being in Hamburg the night before meant that I basically just had to pop myself on a train to Berlin in the morning. Nice and easy. Except TYPICALLY my train stopped for 45 minutes in the middle of the German countryside. Aaand, the train announcements were all in German. The whole not understanding why we'd stopped business ended up driving me to actual, real tears – thankfully, a lovely woman next to me noticed I looked upset, and explained the announcements. Next time I should really just ask…
When I finally arrived in Berlin's Hauptbanhof (the main station), it was a bit of a mad dash to pick up my Berlin Welcome Card, which includes transport around the city, then get to our hotel for the evening. And as I took in my first impressions, the hotel made every little stress, sulk and tear of my train journey SO worth it.
1pm – 25hrs Bikini Hotel
This is definitely one of the aspects of the trip that's getting it's own section. Because the 25hrs Bikini hostel, located in West Berlin, is bloody wonderful. Even just checking in, I fell a little bit in love with the place straightaway. The fun, quirky interiors, the amazing room with a view over Berlin Zoo…and a hammock. In my bedroom.
Unfortunately I didn't get to spend much time soaking in the awesomeness of the place, as I had a lunch date with six other bloggers to keep…
Read more: 25Hours Bikini Hotel Berlin Review
25Hrs Hotel Bikini
Bikini Berlin, Budapester Str. 40, 10787 Berlin
25hours-hotels.com
2pm – Lunch at Ki-Nova
Hopping aboard the bus using my Welcome Card, I managed to make my way to Ki-Nova restaurant, to meet up with Leigh, Hayley, Zena, Rosie, Emma and Olivia, as well as Dagmar from the Chamaeleon Theatre team. Thankfully, I arrived in time to tuck into some falafel and salad starters!
Ki-Nova offers a daily menu made with fresh ingredients, and packed with goodness. We were served up their Curry Bowls – but we're not talking Tikka Masala at your local Indian here. Filled with red peppers, sweet potatoes, green beans and zucchini, this colourful dish was so delicious, it completely turned my traditional view on curry on its head. Instead of feeling bloated, I felt nourished and satisfied.
It was the perfect spot for a laid-back lunch, and an Aperol Spritz or two!
Ki-Nova
Potsdamer Platz Arkaden, Potsdamer Straße 2, 10785 Berlin
ki-nova.de
3.30pm Sony Centre
After lunch, we had a bit of time to explore the city and take some first impressions before heading to the theatre in the evening. Our first stop was a stroll around the Sony Centre, a building complex that's home to…you guessed it, Sony's German headquarters. The modern architecture of the structure was seriously impressive, and it's not just an office centre – we saw musicians playing in what looked like small greenhouses around the space, towering lego models and people just hanging out, enjoying the sunshine.
4pm – Berlin Wall
Unfortunately, I didn't get to delve into the history of the Berlin Wall as much as I'd have liked on this trip. I didn't get to see the East Side Gallery or Checkpoint Charlie (next time, they're top of the list). But I did discover some sections of the wall at Potsdamer Platz – an intersection split in two when the wall was built. A line on the ground marks where the wall actually stood, and sections of the wall still stand today.
4.30pm – Memorial to the Murdered Jews of Europe
Visiting the Memorial to the Murdered Jews of Europe, also known as the Holocaust Memorial, isn't a fun thing to do in Berlin. But it's a very important one.
Obviously, from this blog, I enjoy 'fun' attractions and sights as much as the next adventure – but also find it personally important to visit the sites that represent a side of history that's painful, jarring and bloody heartbreaking. Because these are things that happened. To actual, real people. And paying respects to those who suffered, who lost lives and understanding that side of history is an incredibly important part of our humanity, and shouldn't be overlooked.
Over 3 million Jewish Holocaust victims are named at the site. As soon as we arrived, I felt chills. The memorial is so much bigger than I'd imagined, and I took some time alone to stand and contemplate the sheer brutality and inhumanity of what it represents.
In total, 2711 concrete blocks make up the memorial, arranged in a way designed to cause confusion, unease and represent a supposedly ordered society losing touch with human reason. And believe me, you can feel it. Isolating, despairing and unnerving are all words that have been used to describe this place. And for good reason.
5pm – Brandenburg Gate
One of Berlin's best known landmarks, Brandenburg Gate lies on the site of a former city gate, where many major historical events have taken place. It symbolises unity and peace, and is a pretty impressive structure. We stopped for a little while to take it in (and take some photos).
I also spotted my dream ride hanging around outside it. Being wheeled around on an actual bed. Er, yes please.
6pm – Scotch and Soda @ The Chamaeleon Theatre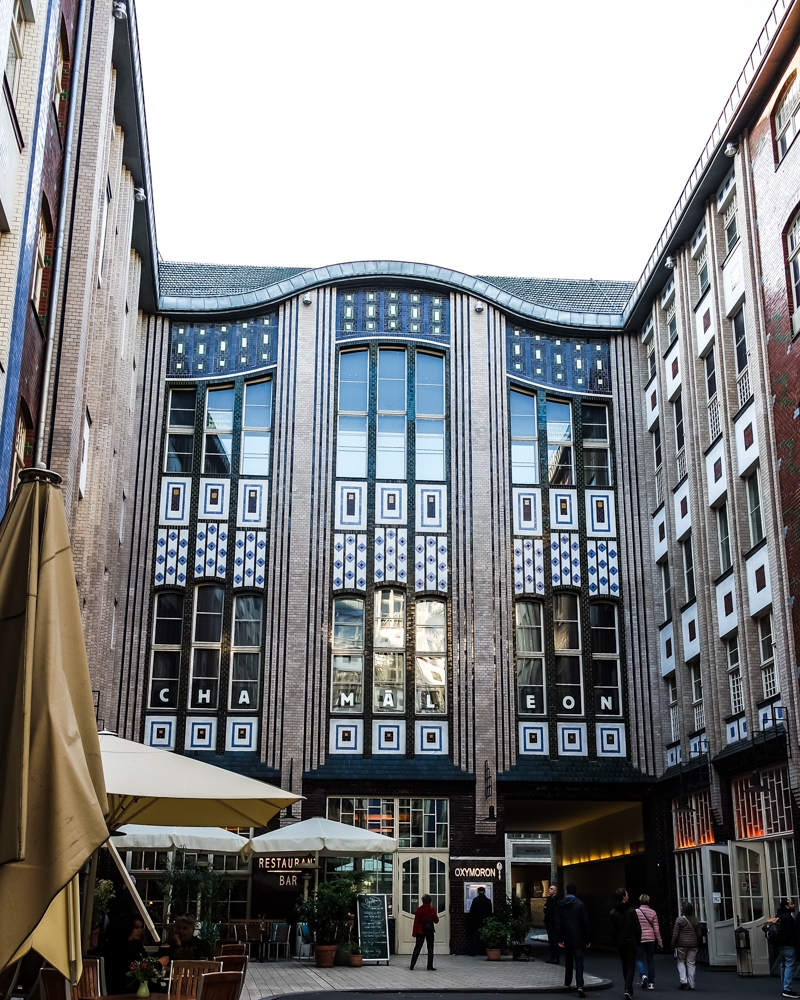 Slightly behind on schedule (blame Starbucks), we arrived at the Chamaelon Theatre for our evening's entertainment – a performance by Australian group Company 2, Scotch & Soda. I was already slightly familiar with them, as Scotch & Soda has been performed all over the world including at London's South Bank.
I've already written all about Scotch & Soda and why you should go and see it, and you can read lots more words about that right over here. It's a wonderful fusion of circus, music and physical theatre, with plenty of wit and humour (both subtle and slapstick). The location of the Chamaeleon is perfect for exploring the areas maze of courtyards and spaces, with restaurants, cafes and bars to grab a bite, drink or whatever tickles your fancy.
Read more: Scotch & Soda at the Chamaeleon Theater
Chamaeleon Theatre
Rosenthaler Straße 40/41, in den Hackeschen Höfen, 10178 Berlin
chamaeleonberlin.com
8pm – Dinner, Chen Che Vietnamese Tea House
After the show, Henrik and Dagmar took us to a local restaurant for dinner and post-show discussions at Chen Che, a Vietnamese tea house that serves up clay-pot cooked traditional dishes. As well as tea, obviously. And tasty cocktails…
The tea house is tucked away down a small side alleyway and in a courtyard – something quite common in this area of Berlin, and it had such a wonderful charm about it. The smell of light incense hovered in the air, and I picked one of the special dishes from the menu, with salmon, rice, ginger and aromatic spices. It was absolutely delicious, and I quickly ate my way through the entire bowl.
Chen Che
Rosenthaler Str. 13, 10119 Berlin
chenche-berlin.com
Day Two
10am – Exploring on foot
After enjoying a buffet breakfast with loads of choice at the hotel's restaurant,which offers amazing views over the city and zoo, I rode the S-Bahn a few stops to Alexanderplatz, in the city centre. The first thing I noticed was the Fernsehturm de Berlín – the TV tower – stretching up towards the bright blue sky. Built in the 19560s, it offers incredible views
The streets of central Berlin were pretty different to Hamburg, where I'd been just 48 hours previously, with a more modern look and fresher feel. That's not to say I liked them better, but the stretching roads and open plaza gave a feel that there was plenty to explore (and lots of places to eat…).
Heading towards the riverside, I had to stop and stare as I took in the vastness of Berlin Cathedral – a striking building with an impressive blue dome, surrounded by four smaller ones and adorned with intricate decor.
11am – DDR Museum
When it comes to museums, I can be quite fussy. I don't really engage with art museums (I much prefer street art, as you'll find out below), and stuffy, dry exhibits aren't my kinda deal. I do, however, really like museums that explore ethnography – really getting to the core of people, their everyday lives and cultures. Which is why the Berlin DDR Museum appealed to me quite a lot.
I'm planning a full post on this place, as it was so fascinating, but in short, it explores the daily lives of those living in East Germany – the Deutsche Demokratische Republik (German Democratic Republic). It's also very hands on and interactive – there are loads of drawers and cupboards within the exhibition that reveal artefacts and stories from the days of the DDR. In the kitchen, you can print out recipes to take away (scrapbook material!), and you can even see how good a Socialist you'd be with an interactive screen – and print out your results to take away.
In terms of museums I've visited, the DDR Museum ranks in my all-time favourites, and I'd definitely recommend spending an hour/hour and a half here if you're visiting Berlin.
DDR Museum
Karl-Liebknecht-Str. 1, 10178 Berlin
ddr-museum.de
1pm – Alternative Berlin Tour
I met our Alternative Berlin tour guide Ben on Alexanderplatz, underneath the TV Tower. As with other tours I've taken, it's a tip-based 'free tour', where you pay what you think it was worth/what you can afford. As you'll know, I'm a big advocate of these tours, having already done them in Budapest and Hamburg. They tend to be a lot less dry than expensive, fixed cost tours, and the majority of guides definitely work pretty damn hard for their tips.
The Alternative Berlin tour showed off the more…you guessed it, 'alternative' Berlin hotspots, taking us away from the clean city centre to the more edgy areas, where street art dominates the walls. One of my major highlights included a bombed out former railway depot in the Friedrichshain area, which is now home to nightclubs, bars, artist studio spaces, a climbing wall and a skate park.
Read more: A guide to Alternative Berlin
4pm – Yaam Beach Bar
Having finally got the sand out of my trainers from walking along the beach in Morocco, it was probably about time I got some more back in. Seriously, I have a pair of shoes now designated to be my sand trainers. The tour ended up at Yaam Beach, a beach bar, where I grabbed myself a fruit beer and chilled out in the sun for a while with some of the others on the tour. It's such a lively, fun space, with music playing and its own urban art gallery.
Yaam Beach
An der Schillingbrücke 3, 10243 Berlin
yaam.de
5pm – Dinner, Kantine Deluxe
After a beer (or two), I realised I hadn't actually had anything to eat since breakfast. WHOOPS. So I got on the train back to Alexanderplatz and searched around for somewhere to eat. By this point, I was pretty un-fussy and just needed to get something in my belly, so I dipped into Kantine Deluxe and took a seat outside for some prime people watching while I tucked in.
The restaurant has a 'self-service' kinda thing going on. The waiter gives you a tablet, and you order your food on it, getting a notification when it's ready to be collected. I went for a Chicken Schnitzel with chips, ordering quickly because SO HUNGRY. The food wasn't much to write home about, but the scnitzel was pretty huge and filled the void in my stomach that had come from a day of not eating. So, it was alright.
Kantine Deluxe
Spandauer Str. 2, 10178 Berlin
kantine-deluxe.de
6pm – Reichstag
With about an hour and a bit to go until I needed to be back at the hotel to collect my case, I decided to walk off my schnitzel and see a few final Berlin sights before heading home. Including the Reichstag German Parliament Building. You can actually go inside and walk up in its glass dome, but as I hadn't booked in advance, I settled for checking it out from an exterior perspective.
7pm – Berlin Airport > Home
The S-Bahn to the airport almost proved a bit of a nightmare, when I realised my Welcome Card was only valid for Zones A and B. The airport? It's in Zone C. With the severe German train conductor bearing down over me, I felt tears welling up in my eyes – would I miss my flight? Would I be charged a huge penalty fare?
Thankfully, three absolute dudes sitting behind me came to my rescue – it turned out that they had a group ticket that covered up to five people, and told the conductor that I was part of their group. Obviously, she didn't believe it, but tutted and walked off down the carriage. If you're reading this, train dudes, THANK YOU.
Flights home were on time, and uneventful. Cheers RyanAir for actually being alright!
– – – – – – – – – – – – – – – – – – –
After my weekend break, I feel like I've only scratched the surface of what Berlin has to offer from my flying weekend visit. It's a much bigger city than Hamburg, and there are plenty of things I'd still love to do there. A return visit is definitely in the pipeline. The diversity of the different areas really stood out to me, and I'd like to delve more into the history of the Berlin Wall. But for now, I feel like my itinerary was a great introduction to the city for a first time visit – and particularly interesting if you want to see a little bit more than the 'typical' attractions. I like you, Berlin. I'll be back.
*My flights, hotel and first day's activities were covered by the Chamaeleon Theatre – but the rest of the itinerary choices, I made and paid for myself.
Pin it for later!