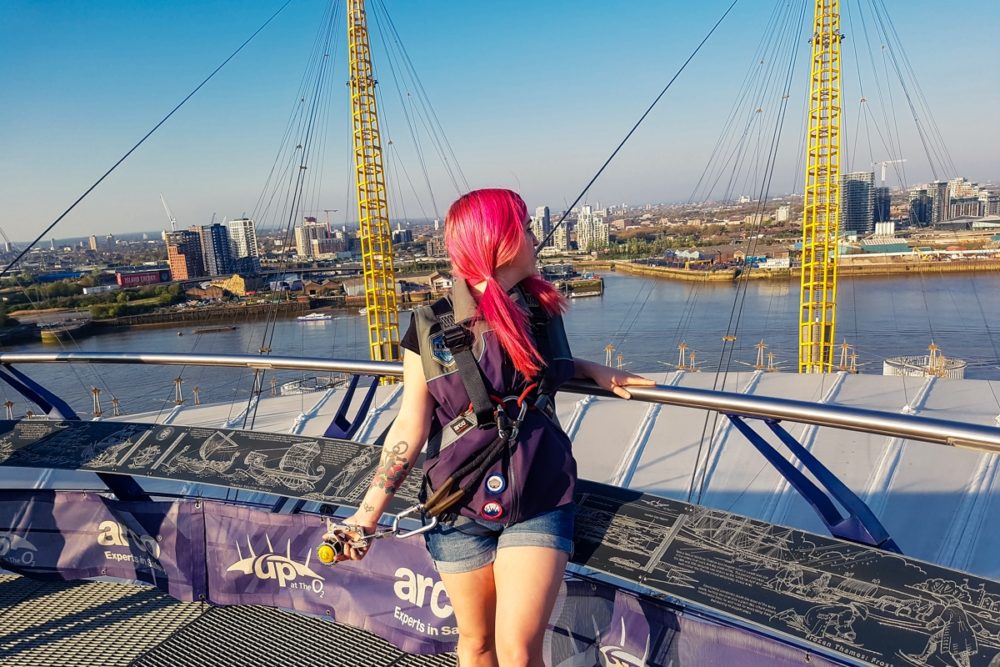 I've always had a bit of a head for heights. Whenever I visit a new place, one of the first things I always want to do is race my way up to the highest point, to gaze out over the landscape before me. A couple of years back, I abseiled down Portsmouth's Spinnaker Tower – and it's still one of my favourite adventures to date.
Having said that, when it comes to London, I haven't actually experienced many of the city's famous high up sights. Apart from getting very drunk on tequila cocktails for a event hosted by the Mexican government in the Sky Garden, anyway. But otherwise, I've still got the Shard, London Eye, ArcelorMittal in Stratford and the Monument on my to-climb list.
My first experience of the O2 was back in 2000, on a school trip back when it was better known as the Millenium Dome. I was 12 at the time, so I barely remember a thing from my visit. Since it's been the O2 Arena, I've been a few times for gigs and always looked up at the walkway, adding it to a mental list of things to do in London that's ever-increasing, even when I'm ticking them off.
This weekend, we took the plunge, and booked in to climb Up at the O2. With the temperature pushing 20 degrees and the sun taking pride of place in the clear blue sky, it turned out we'd picked the perfect day to do it…
With dramatic music coming through the speakers, we piled into the Base Camp briefing room, where we met our guides Ross and Victoria. We were given a bit of a safety talk and watched a video with some fun facts on the O2. I actually never knew that there are 12 spires sticking out, each representing a month of the year. It's 365m in diameter, and 52m high. That part was the one that interested me most – considering in about 45 minutes time, we'd actually be up that high!
Once we'd harnessed up and put on our branded gilets (great for feeling those serious urban explorer vibes) and comfy climbing trainers (seriously, so comfy, I wanted to steal them), we made our way onto the walkway. The first stretch was pretty steep, and I felt my legs start to wobble slightly at one point. Although, quite honestly, we both found the climb up far easier than we'd expected it to be. Obviously the running I've been doing recently has been helpful! As we got higher, the walkway flattened out – although the bounce and wind gave it an exciting edge.
When you climb up, you're strapped onto a wire, so even though there's no outer rail it still feels perfectly safe. And with the O2 roof a metre or so beneath you, you never feel like you're that high above the ground. Until you look out around you at the stunning views, anyway.
At the top of the walkway, we were released from our safety rail and free to look around the 360 degree panoramic view of the city. And what a view it was. With the Thames snaking around the O2, across the river we took in the well-known London skyline, from the towering Canary Wharf buildings across to the Olympic Park.
Along the edges of the observation platform, we found interesting facts about London explorers as well as notes on what we could see when looking out from that specific point. Our guides were also really helpful in pointing out notable landmarks, and helping us find the right direction to say 'Can we see our flat from here?!'.
We had a good amount of time on the platform before beginning the descent towards solid ground (and the pub). This time, the walkway started out pretty flat, with the last stretch being another steep one. Making our way down slowly, I decided to tackle it backwards and felt like a full-on climbing expert. Kinda.
Once we'd headed to the nearby Meantime Beerbox pop-up for a well-deserved pint (A tasty London IPA for me), we dissected the climb and how good an experience it had been. I loved seeing the city from a different perspective, and the climb itself was actually a lot of fun. I definitely felt a strong sense of achievement when we made it to the top. Plus, it totally counts as exercise. Really fun exercise, with a snazzy little gilet and epic views to top it all off.
Tickets for Up at the O2 cost from £30 for adults and children aged 9 and upwards. If you're part of a Scout group, Up at the O2 are currently offering a limited amount of complimentary climbs too!
*We were given a pair of tickets to Up at the O2 – all opinions and excellent leg muscle strength my own!
Pin it for later!