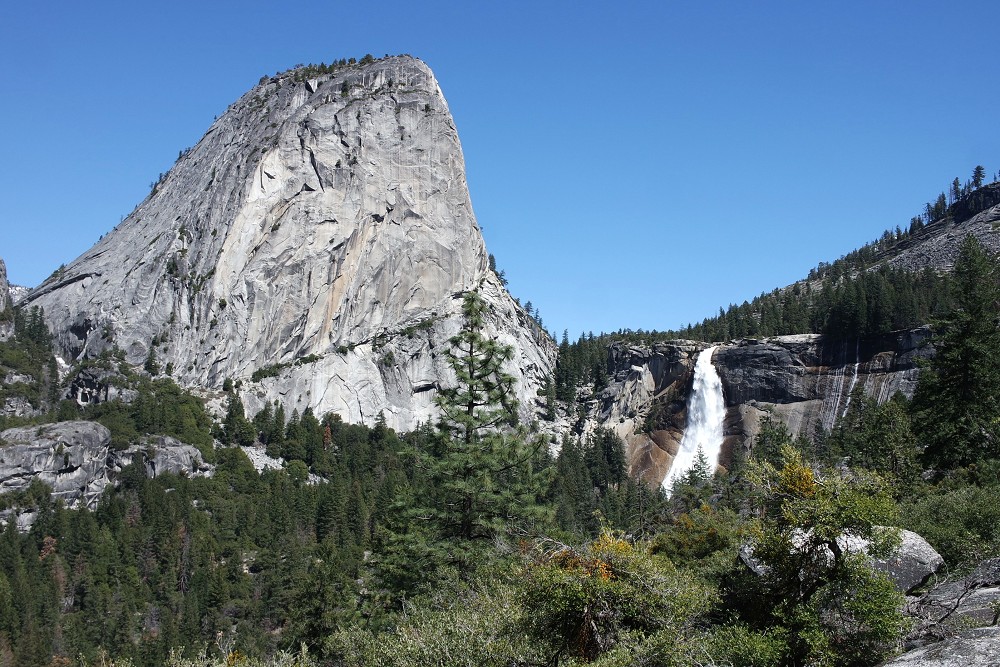 We arrived at our hostel for two nights, Yosemite Bug Lodge, late in the evening after a mega long journey. Basically, a whole day on the road. Although, being on the road in the US turned out to be WAY more exciting than in the UK, and time seemed to pass a lot more quickly. Especially when there are quirky little family farms with goat petting zoos to be found.
I really do like goats, y'see.
There were three of them altogether, and a little dispenser where you could feed them through the fence. The bigger goat decided to barge its way in, but I made sure the other little pals got a nibble too.
Yosemite Bug Lodge was definitely a million worlds away from the Golden Nugget, our home for the previous two nights in Vegas. Hidden amongst the trees, log cabins on stilts were tucked away into the rising hills – and it was pretty beautiful. Unlike the other nights where we'd been staying in pairs, the Bug Lodge was a hostel with dorms, with all the girls in one bunk and the boys in the other. Having never done the hostel experience properly, I actually really enjoyed sharing the room with the girls I'd got really close to over the week – chatting away at bedtime like a big girly sleepover.
At the centre of the bunks was a communal restaurant and 'clubhouse' style hangout space, with tasty home-cooked food, a bar and lots of board games and space to socialise. On my first night, I wolfed down a tasty steak with carrot and sweet potato mash, and the second night was an amazing pork dish with rice and veg. Even though it was a restaurant, the food was incredibly comforting and felt like something you'd be brought out to a table by a loving relative.
The lodge also has spa facilities, which we ended up not making use of – but would be a great addition to a rural retreat style break at the lodge. The whole communal vibe of the place was incredibly welcoming and friendly, and we ended up sat by the campfire chatting and chilling until it was time for bed.
As for Yosemite itself….well…just look at it. Like the Grand Canyon, Yosemite National Park is breathtakingly beautiful, and pictures just don't do it justice. But I'll give you some anyway.
As the Lodge was relatively close to the main National Park area, it didn't take us long to get there. Stopping off at a stunning vantage point, we were able to take in our first views of the incredible scenery.
Afterwards, we drove through the beautiful parkland and woods; past rivers and rocks and streams and waterfalls, eventually arriving at the Yosemite National Park main village to fill up our water bottles before undertaking one of the biggest physical challenges I've ever taken on…
You know how sometimes life can feel like you're climbing a mountain, and you have no idea how you'll make it to the next peak, but you keep pushing on anyway because that's the only thing you can do? That's basically what I did. Hell yeah, metaphors.
(Okay, it was a waterfall rather than a whole mountain, but you get my point.)
The major part of our day at Yosemite involved hiking a trail, firstly through the woods, then climbing a lot of steps until we made it up to the top of some amazing waterfalls. Yes, guys, I hiked.
I am definitely not a fit person. At all. Also, in being my non-sensible usual self, while everyone else had packed hiking boots, all I had was a pair of battered Vans. I crawled along ages behind the rest of the group, sweating and swearing and feeling like my jelly legs couldn't take one more step. But I pushed myself. I kept going. And when I reached the top, the view was amazing. But what felt even more amazing was the fact that I hadn't given up. Partly because, well, it was a horrible journey back down too.
This picture may not seem like much – but to me, it's probably one of the most meaningful snaps from my entire trip. You see me doing a pretty cheery thumbs up against a magnificent backdrop. What you don't see is the strain in my muscles, and the aches the next morning, and the legitimate tears that I had half way up. It reminds me of when you see 'successful' people in amazing photos, in far flung places, or doing fabulous outfit shots (note: this is not one of those) – you see the beauty (as in the background, not my sweaty face) and achievement presented to you, but not the hella hard work that led up to that moment, just that one shot. Sometimes, I guess, things look a lot easier than they are.
See Also
I was insanely proud of myself when I reached the top of that waterfall. And I still am. If I can climb that waterfall, I can damn well achieve the million other things my stupid brain tells me I can't do.
(Also, I definitely need to start going to the gym. HA.)
Despite feeling like quite the badass for my hike, I decided to decline the next waterfall climb for fear of my legs falling off, and instead headed back down the mountain with some of the others to check out some more of Yosemite – including Mirror Lake. A small, seasonal stretch of water, it's only a proper lake during certain parts of the year – and as we were lucky enough to be there when it was full, I really wanted to go check it out.
It wasn't quite as 'mirror'-like as I'd actually expected. I mean, I was expecting a huge, clear pool with big reflections, which wasn't quite there. Instead, there were lots of trees and greenery surrounding the lake blocking the mirror viewa. But seeing the mountains and rocks above it reflected in the water was still pretty impressive. And I definitely had to dip my tired little feet into the ice cold lake, which worked a treat in cooling them down after the earlier hike.
My visit to Yosemite is definitely something that will stick with me for the longest time. One of the greatest things about the Western BLT, as I've mentioned before, is the combination of experiencing the bustle of America's greatest cities, with some of the most breathtaking natural sights sandwiched in between. It gave me the chance to push myself, showed how supportive the rest of my newfound Trek friends were, and gave me a sense of self belief I didn't know I had.
Previously in my America series: Viva Las Vegas | Route 66 & Seligman | The Grand Canyon | Los Angeles | Santa Monica
Thinking of taking your own US trip? Here's ten things you should know about Trek America!
Pin it for later!