Widely lauded as one of New York City's best burgers (no mean feat, when there are approximately three hundred zillion in this mega metropolis), Burger Joint was somewhere I was desperate to try out on my recent visit to NYC.
Although it's definitely not as *secret* as it used to be, thanks to widespread acclaim and coverage, Burger Joint's a spot you won't stumble across unless you're looking for it. Sliding scuffed trainers along the marble floors of the Parker New York foyer, you'll definitely think you're in the wrong place. But as you take a turn behind the red velvet curtain, the atmosphere changes completely.
Burger Joint has serious dive bar vibes, walls adorned with cult movie posters, and intimate, low lighting. The contrast behind high end hotel and dingy burger kiosk is severe, and the latter is *much* more my kinda joint than the former.
This one's a straight up no reservations spot, and tables go first come, first served once you've grabbed your food. Don't be that dick at the back of the queue who jumps in to save a seat. Trust me, it works – we were worried we wouldn't get a seat, but a couple left with perfect timing. Okay, we were sharing a booth with complete strangers, but for burgers this good, it's worth it.
We waited around 15 minutes to order, and there's no table service – you collect your meal when you're called. The minimal drinks menu consists of beer (with three options available at the time we went), wine (white or red), and soda.
The food menu at Burger Joint is, unsurprisingly, very simple – and handwritten on pieces of cardboard, to epitomise those hipster-dive vibes. You can choose from a hamburger, or a cheeseburger. Or a double hamburger, or a double cheeseburger. It's probably *not* a spot you'd head for as a veggie – NYC has an awesome meat-free scene anyway – but there's the option to 'hold the burger' and have basically a cheese sandwich.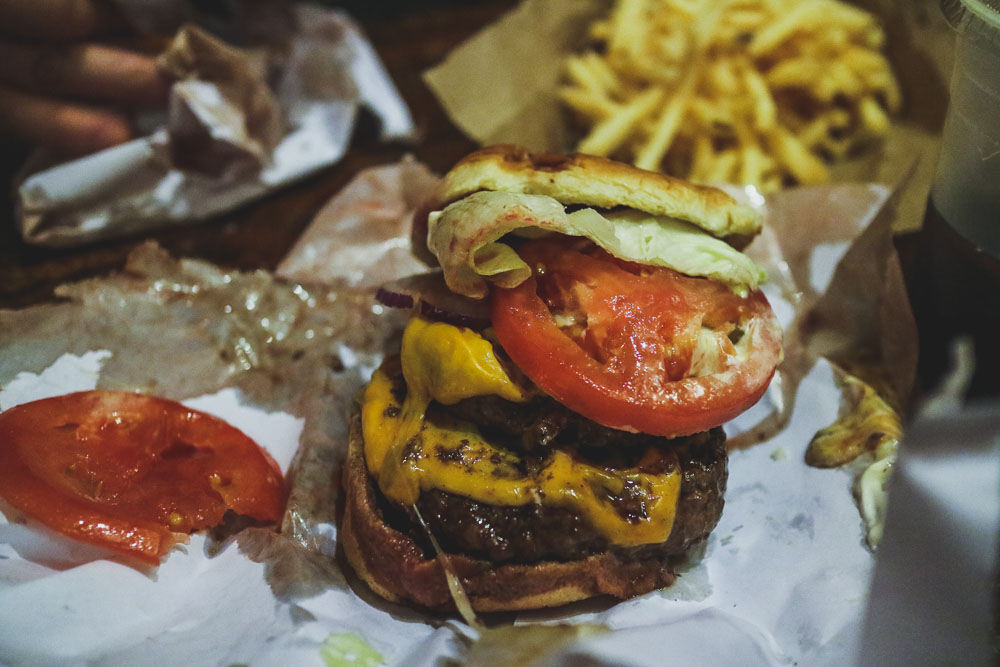 I ordered a double cheeseburger. I did NOT need to order a double cheeseburger. The patties are pretty huge, and you're definitely getting your money's worth for $17 (FYI, a single is $9.42). The price includes all your toppings (except bacon, which is an extra $1.61): lettuce, tomato, onion, sliced pickles, mustard, ketchup and mayo. It gets messy. In the best possible way.
Does the Burger Joint burger live up to it's hype though? I'd say yes. Expect your classic, greasy American burger, done *really* well. The meat was rich, juicy and soaked into the bun, combining perfectly with the sharp mustard tang. They're cooked to your choice (medium rare for me), and with very little seasoning, leaving the excellent quality beef to speak for itself.
The fries ($4.13) were enjoyable enough, and there's also a chocolate brownie dessert on offer ($3.22, or $6.43 with vanilla ice cream). But really, you come here for one thing. And that one thing is a damn good New York City burger.

Burger Joint
Parker New York Hotel, 119 W 56th St, New York, NY 10019
Opening hours: Sun-Thu 11am-11.30pm, Fri-Sat 11am-midnight
Website