If you're looking for a cheap hotel in East London with plenty of character and a fabulous welcome to London, Point A Liverpool Street has you sorted.
Point A Hotels is a small, family-run chain with a focus on affordability, without compromising on quality and service. Their aim is to provide personal, friendly service that goes above and beyond your bog standard budget hotel.
Rooms at Point A start at an impressively affordable £69 per night, and there are six properties in London (as well as one in Glasgow) to choose from. To celebrate their recent refurbishment, I was invited along to Point A Liverpool Street, a stone's throw from the station, to stay the night and experience some A-star hospitality.
*complimentary press stay*
The Location
Just minutes' walk from Liverpool Street Station, this branch of Point A is perfectly located for a night out in East London. Loads of connections run out of Liverpool Street, with the central, Hammersmith and City, Circle and Metropolitan lines, as well as overground services.
The hotel itself is on Folgate St, just off the buzzing city road of Bishopsgate, next to the now-closed-down-and-I'm-very-sad-about-this Water Poet pub. On your doorstep, you can find a whole heap of restaurants and shops in Spitalfields, as well as the bars and quirky street art of Shoreditch.
The Lobby
From the moment I stepped into Point A Liverpool Street, I definitely felt like it was a 'me' kinda hotel. Having been recently refurbished, the interiors were sleek with colourful, patterned touches.
Towards the back of the lobby, there's a common space (which is also used for breakfast – more about that later). With a fun notice board and comfy seating, it's got a kinda hostel vibe, but cool and classy rather than dingy backpackers' den. The reception is staffed 24/7, and the team are full of useful local knowledge and recommendations.
There's also a sizeable private garden outdoors, perfect for enjoying the summer weather than London apparently gets now and then.
The Room
Okay, being blunt – our room was pretty small. There was enough room to walk around the bed, a compact bathroom and a little space next to it, and that was it.
But to be honest, when you're on a city break – you don't need a palace. I'll happily trade a hotel the size of Kim Kardashian's third-favourite apartment for an affordable price. Chances are, I'll spend very little time there.
And despite its size, our room at Point A was well thought out, making great use of the limited space. Storage around the bed frame, a small desk with cupboards and wall hangers gave plenty of room if we were going to put our things away (which, let's be honest, I never do in hotels).
Staring out of the hotel window…

I woke up like this!
One of my absolute no-compromise things in a hotel, whatever my budget, is the bed. Pounding the pavements of one of the greatest cities in the world is bloody tiring, and at the end of a long day, I want to basically flop onto a cloud of comfort. Budget hotels can sometimes mean beds that feel more like lying on a sack of potatoes, but the Hypnos beds at Point A stand up to the quality of some of the fanciest places I've laid my head.
Extra plus points for the bedside charging points too – both normal sockets and USB. Oh, and there's free Wi-Fi in the rooms as well as the lobby.
Washing up! The bathroom is, as I said, very compact – but the shower's warm and powerful, and I appreciate the refillable shower gel rather than wasteful mini toiletries. Basically, it's nice and clean, and it does the job. Towels and hairdryer are provided.
Before going to sleep, we turned on the fun coloured mood lighting and watched some TV – each room comes with a 40in smart TV, featuring all the usual channels plus neighbourhood and hotel information.
The A List Amenities
I really resent paying extra for hotel facilities that I don't even use. Fancy restaurants, gyms and spa facilities are great for a treat yo'self weekend away, but on a budget break, I'd rather save on the room cost instead. Point A totally get this, and instead of having their own facilities, they work with local businesses to provide deals on services for hotel guests as part of their 'A-List' loyalty scheme (see what they did there?!). So they're saving you money AND showing off some of London's best places to eat, drink and enjoy!
See Also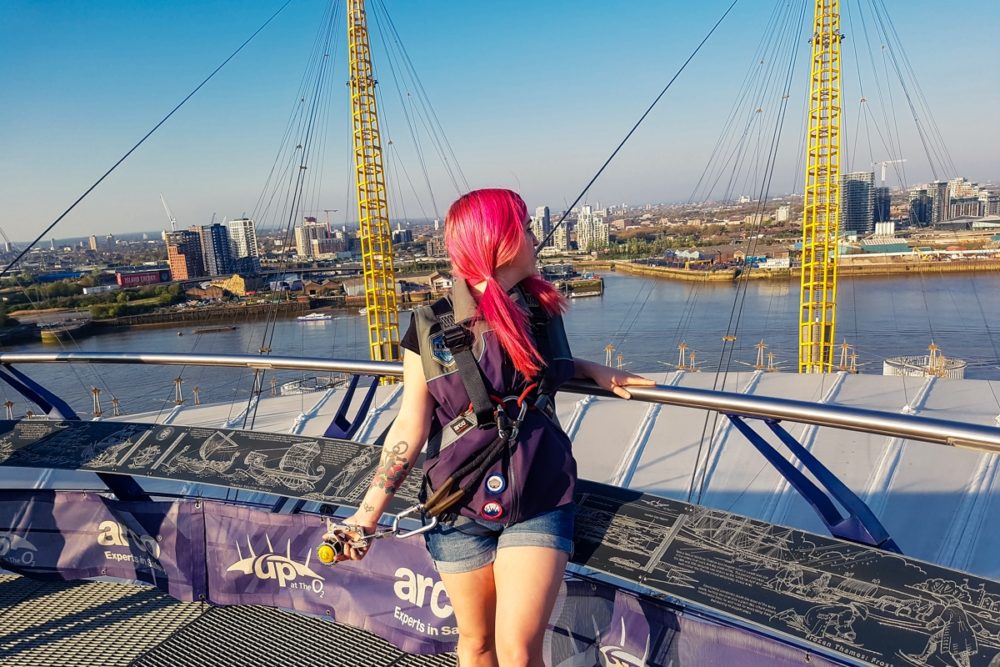 By signing up to their A-List loyalty programme, you not only get 10% off your online bookings, but you also get access to all the deals on offer at your hotel – and Point A Liverpool Street has some awesome A-List partnerships.
The food and drink options (at the time of writing) include Hawksmoor (a complimentary round of drinks), The Ten Bells (15% off drinks and bar food), Carluccio's (free bottle of wine with two main courses) and The Crown and Shuttle (£10 meal and a drink deal).
If you're getting dressed up for a night out in Shoreditch, you can get 10% off and free mimosas at Blow Dry Express, as well as 20% off cuts and colour in their Aldgate branch. Don't fancy skipping your workout? You get free entry to the local Fitness First during your stay. And finally, for sightseeing, you can save 15% on a range of Golden Tours activities.
Fruityyy.

Dreamy pesto twists
The Buffet Breakfast
In the past, I've found many hotel continental breakfasts to be dull and uninspiring. Not at Point A.
Okay, so the £9 starting price for breakfast is a little steep for my normal budget. But the choice and quality is fantastic. Pastries adorn the top shelf, from bacon and tomato to pesto and cheese twists. Cereals, yoghurts and a plenty of fresh fruits are on offer, as well as juices, tea and coffee. Come hungry, leave satisfied.
Why stay at Point A Liverpool Street?
Because here, budget doesn't mean bland, and it genuinely comes in on a par with much more expensive boutique hotels. It's clear that Point A have really taken into consideration what the average traveller values in a city break hotel and applied this to their ethos and service. A warm welcome, comfortable bed, a great atmosphere and a brilliant location – all at an affordable price.
For a cheap hotel in East London, Point A Liverpool Street has the character, quality and facilities to give you an A+ time staying in London. I'm a fan.
Point A Liverpool Street
3-15 Folgate St, Spitalfields, London E1 6BX
Website