Bratislava is a wonderfully easy place to wander, with charming streets and great places to eat and drink. It's also very close to both Austria and Hungary, making it an ideal place to work into a longer Europe itinerary with the likes of Vienna and Budapest.
Owing to its small size, it's quite easy to fit the main attractions into a one day Bratislava itinerary. I've shared my favourite spots to get a flavour for this Slovakian city with limited time.
There are a few must see parts of this Bratislava itinerary (UFO Tower and Old Town), which I'd recommend tackling in the bulk of your day – so I've put them in the afternoon. I've also worked out the itinerary in a sensible walking order, so you're not wasting time in your day going back on yourself. You're welcome, and stay hydrated.
Breakfast at Rannô Ptáča
In the city first thing? Fill yourself up with some GLORIOUS pancakes at Rannô Ptáča. On this unassuming café's breakfast menu, you'll find American style delights served with a variety of toppings. I went for the fruity option of bananas, grapes and blueberries, with a hefty dollop of whipped cream. The portions are generous and will easily keep you going til lunch.
Assuming you're arriving in the morning, there are a few sights I'd recommend checking out before lunchtime during your day in Bratislava – these are spread a little outside the old town.
Rannô Ptáča
Štefanovičova 6, 811 04 Bratislava, Slovakia
Website
The Blue Church

Inside the church
Bratislava's Blue Church
Bratislava's Church of St. Elizabeth is known as 'the blue church' because…well. It's really, really blue. Built in the early 1900s, the church is of the Hungarian Art Nouveau style. Having seen it on Instagram, I was worried it'd be a let down (a la Bucharest's 'colourful' steps).
Alžbety, Bezručova 2, 811 09
Primatial Palace
Noticing a colourful theme here? This regal pink building is a neoclassical palace filled with tapestries and oil paintings of royalty throughout the ages. It costs €3 to go inside, but even if you just visit the palace and square, you'll get the sense of majesty that comes with this spot.
Primaciálne námestie Primaciálne, nám. 494 2, 811 01 Staré Mesto
Website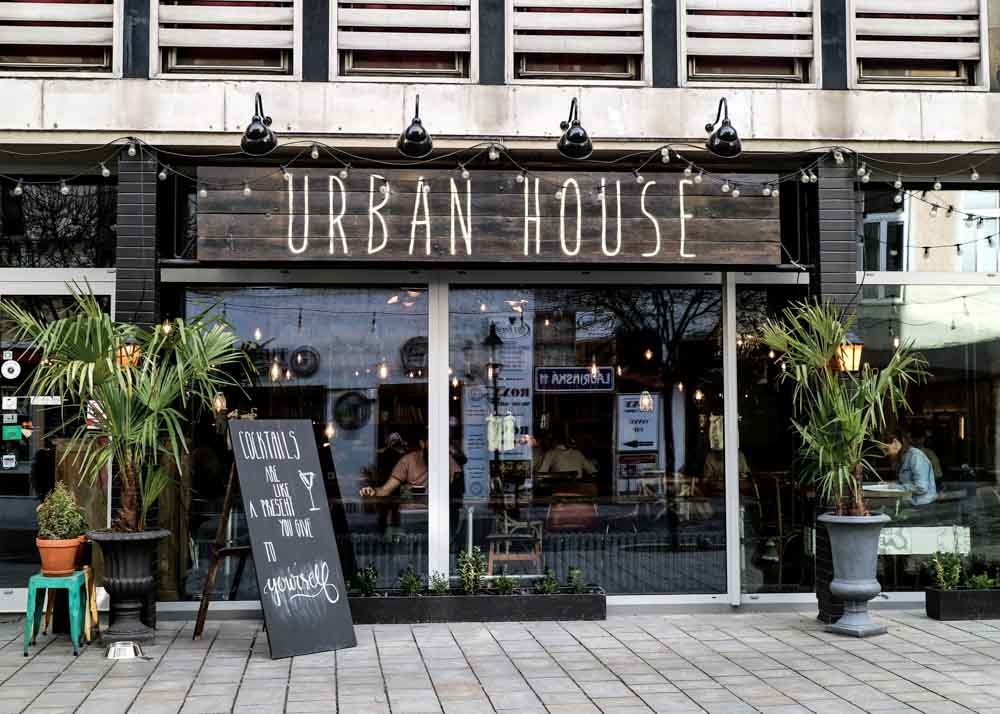 Shakshuka & soft drinks

Brunch at Urban House
Lunch (or Brunch) at Urban House
Just around the corner from Primatial Palace, you'll find the perfect cosy brunch stop in the form of Urban House. It's got a modern, hip vibe – think brick walls, wooden furniture and comfortable sofas.
The bean shakshuka (€6.90) I had was absolutely divine. It's on the breakfast menu, which is served until 1pm on weekends (12pm weekdays) but if you're there a bit later, you can choose from the full menu including pizza, vegan fish and chips, salads and burgers.
Urban House
Laurinská 213/14, ground floor, 811 01
Bratislava's UFO Tower

Cocktails and castles
UFO Tower Observation Deck
One of the first things you notice about Bratislava's skyline is a strange, round shape hovering above the river. It looks a bit like an alien spaceship – which is why this observation deck is known as The UFO.
Worth a trip up? If you like views, definitely. As well as getting a cracking eyeful of Bratislava Castle, you can see out across the old town, up and down the Danube, and even as far as Austria.
It costs €7.40 to enter the observation deck – although it's free if you eat at the restaurant. We didn't, but grabbed a couple of early afternoon cocktails after we'd checked out the views. I had a Coconut Mojito, which was delicious – at €8.90 it was the most expensive drink of the trip by far, but the view out to the castle as I sipped away definitely made it worth the touch of luxe on a budget weekend.
UFO Observation Tower
Most SNP, 851 01 Petržalka
View of the Old Town

The oldest street in Bratislava
Old Town & Bratislava Castle
If there's one area you should definitely explore with one day in Bratislava, it's the old town area.
See Also
We took a Bratislava Old Town Walking Tour to get the most out of the area in a short amount of time, however if you want to check out the exhibitions inside the castle (entrance is €10), last entry's at 4pm so I'd recommend going there first. The walk up to the castle is easier than the height of the hill makes it seem, and we took a more winding route to stop and enjoy the city sprawling out underneath us.
Once you're finished up in the castle, you can take the steps down to the old town and enjoy sights like the oldest street in Bratislava, St. Martin's Cathedral and Hviezdoslav Square.
Dinner at Slovak Pub
With plenty of affordable places to eat in Bratislava, it'd be rude to leave without tucking into some Slovakian cuisine.
The Slovak Sharing Platter at Slovak Pub is a great way to sample a selection of three regional specialties. My favourite was the halusky (dumplings) with cabbage and bacon (€13.50), and alongside these you can tuck into halusky in sheeps' cheese and pirogi dumplings.
If you're spending the night in Bratislava, there are plenty of bars to choose from with affordable beer and wine to make for a pretty cheap night. Unity Street has a great selection of beers, or if you're heading back to the old town, black dog is a dark and cosy little pub.
Slovak Pub
62 613, Obchodná
Website
St Michael's Gate

New wheels.
Getting to Bratislava
Bratislava Airport is 9km out of the city, and the number 61 bus goes from the airport, taking around 25-30 minutes to the city centre. If you want to get a taxi instead, it's around a 15 minute drive to the city centre.
Bratislava's main train station, Hlavná stanica, is around 20 minutes walk from the city centre, with trains to and from larger nearby cities including Vienna, Budapest and Zurich. There are also bus services from Vienna and Budapest to Bratislava.
Getting Around Bratislava
Bratislava is a pretty small city, and everything you'd probably want to do in a day can be found within easy walking distance. There are bus services that run throughout the city though, and taxi ranks can be easily found.