As much as I love travelling to far-flung places, there's something inherently simple about a European break. With short flight times from budget airlines, it's easy to take a Friday off work, go exploring, and be back in the office come Monday morning.
Over the past couple of years, I've loved exploring Europe, because there's just so much variety. Whether you want a city break, beach holiday, or something more exciting – you'll find somewhere in Europe that ticks ALL the boxes.
So if you're struggling for inspiration on how to use up that annual leave in 2019, check out six of my favourite places in Europe to visit!
Montenegro
Topping my list for underrated destinations to watch in 2019, Montenegro is absolutely bloody beautiful. We stayed just down the road from the old town of Budva, which is gorgeous to potter around.
The stunning coastline is reason enough to visit, and it's amazing for a beach holiday – but heading inland to the mountains, you'll find landscapes made for the pages of travel magazines. Towering mountains, steep canyon walls, quaint monasteries and small villages are just some of the best bits.
Highlights: Durmitor National Park, Tara River Canyon Zipline, Budva Old Town, Kotor, Scuba diving, Morača monastery.
Read more: 5 Places To Visit In Montenegro Beyond The Coast
Budapest, Hungary
Budapest is an absolute BABE of a city and if you haven't visited yet, you should definitely bump this one to the top of your list. Like, now.
The city is intersected by the Danube river, and on both the 'Buda' and 'Pest' sides, there's a whole load of amazing architecture, culture and fun stuff to do. I spent six days here, which is more than usual for a city break – and I can honestly say, I'd have been happy to spend a further six.
In fact, I could probably just live here. Can I, though, seriously?
Highlights: Fisherman's Bastion (Instagram DREAM), Houses of Parliament (stunning), Széchenyi baths, ruin pubs (only got time for one? Szimpla Kert is the best-known), Great Market Hall, House of Terror Museum.
Read more: 12 Awesome Things To Do In Budapest | Where to Find The Best Cheap Eats In Budapest | Szimpla Kert Ruin Pub, Budapest
Berlin, Germany
Berlin basically has all the elements of a city break that I like: interesting streets, plenty of things to do, a whole load of history and uncountable cultural experiences and adventures. Also, excellent food, obviously.
I only spent two days here, and honestly I'm itching to explore it more. I managed to split a good balance between the big sights (Brandenburg Gate, Berlin Wall) and the more alternative neighbourhoods of Friedrichshain and Kreuzberg. ALL the street art.
Highlights: Brandenburg Gate, Berlin Cathedral, Holocaust Memorial, DDR Museum, Warschauer Straße; YAAM Beach; Reichstag German Parliament Building.
Where to stay: 25Hours Hotel, Berlin
Read more: Berlin: A Two Day Itinerary | A Guide to Alternative Berlin
Leuven, Belgium
Forget Brussels and Bruges (okay, don't actually forget them because they're still quite good), Leuven is by far my favourite city in Belgium to date.
If you like beer, you'll be in heaven here – with breweries and pubs all over the place, and a ridiculous amount of ales to sample your day and night away with. But there's more to Leuven than just drinking.
Highlights: University Library and Tower (amazing views); Grand Beguinage (old-worldy buildings that make you feel like you're not in the city at all); Leuven Town Hall; Hof ten Dormaal brewery.
Read more: City Guide: The Best Things To Do In Leuven | In Pictures: Leuven, Belgium
Malta
If you fancy a bit of a sunshine break, the island of Malta's definitely a destination to consider. While the city of Valetta didn't wow me in terms of things to do, the coast here is DREAMY.
I'm not really a beach person (sand everywhere, noope), but love the sea – so the more rocky coastline teamed with plenty of watersport options really appealed to me. I also spent some rare time relaxing by the hotel pool, listening to podcasts and sipping on mojitos before lunchtime which was LOVELY.
Highlights: Blue Lagoon, Crystal Lagoon, swimming and snorkelling, Popeye Village, chilling by the pool.
Read more: Things To Do in Malta | 12 Reasons I Loved Popeye Village | A Boat Trip Around Comino, Malta | Is Valetta Worth Visiting? | Why Staying in Mellieha, Malta Is A Great Idea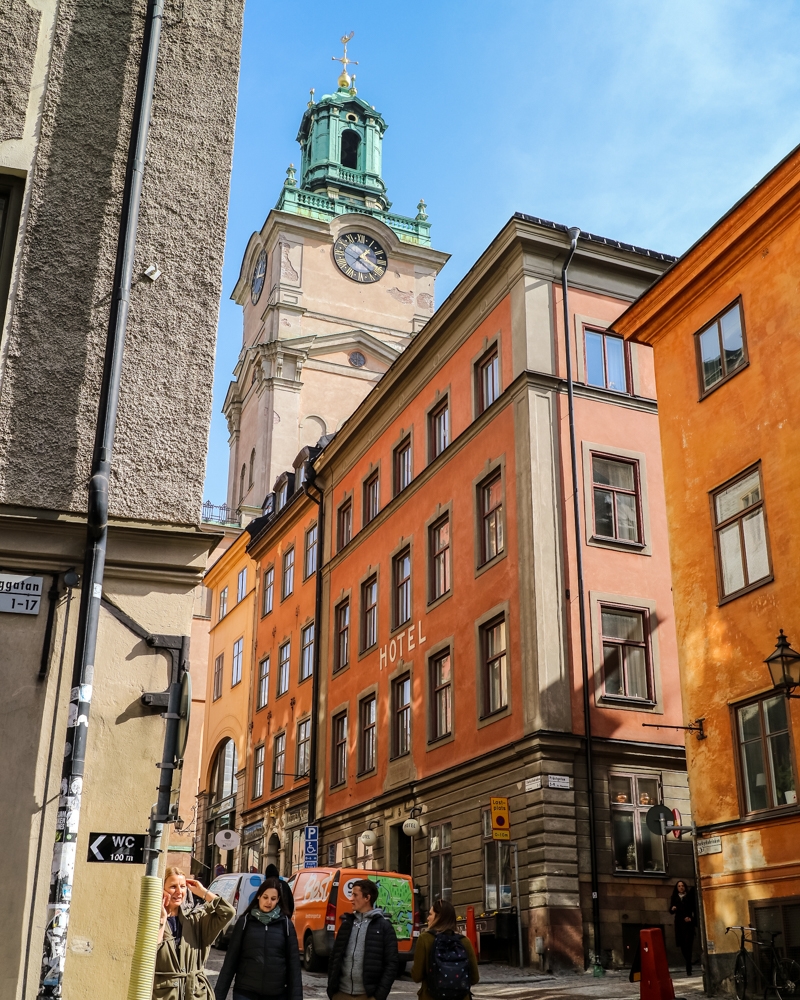 Stockholm, Sweden
A little solo adventure last spring took me to Sweden's capital, Stockholm, spread across a number of islands split by river canals.
The old town of Gamla Stan is standout beautiful, with narrow streets to get yourself a little lost in. Stockholm also has some really awesome museums – a far cry from the stuffy, boring stereotype, featuring interactive and genuinely interesting exhibits.
Highlights: Gamla Stan; Subway art (SO different from the London Underground!); Royal Canal Boat Tour; Royal Armoury Museum; Medieval Museum; Historika.
Read more: 48 Hours In Sweden's Capital: What To Do in Stockholm | How To Visit Stockholm on a Budget: What I Actually Spent | A Stockholm Subway Art Tour: The Best Stations To See | 3 Tasty Places To Find Cheap Eats in Stockholm
What European destinations are you travelling to to this year?