I've always harboured a little bit of a secret desire to be a Wild West cowgirl.
An outlaw, riding through the desert on my noble steed. Inspired by old Western movies and a newly purchased charity shop checked shirt, I was totally ready for a night at Betty and Rusty's Cowboy Camp. And of course, a spot of horse riding in Arizona…
Rolling up to the ranch, set in the middle of nowhere in Arizona, I knew this was going to be something pretty special. No towering buildings greeted us, just a handful of shacks and caravans, populated by horses, dogs and stable hands who looked like legit cowboys.
Betty and Rusty are probably the coolest people in existence. In their seventies, they own the small ranch and stables, which feels JUST like the kind of place real life cowboys would hang out. We sadly didn't get to meet Betty, but Rusty was such a fascinating man, with a million tales from his time living the cowboy life in rural Arizona.
Before our horse riding session, we had a brief safety talk and some info on how to ride, Western style. Reins low, lean back when you're going downwards…pretty simple stuff, in principle. Then the stable hands helped us get onto our horses – in my case, with the help of standing on a box. Short girl, tall horse problems.
My horse was aptly named Molly. I say aptly, as people regularly get my name wrong and call me Molly. We were a bit of a dream team, Molly and me. She was super well behaved, apart from the odd snack stop. I think we had a bit in common there.
Out in the Sonoran desert, it wasn't long before we were riding amongst loads of towering cacti. Real wild west style! Rusty told us that these cacti were actually REALLY old. To give you an idea, they don't usually start growing their branches until they've been around for 75 years, so some of the bigger ones we saw had been around for centuries.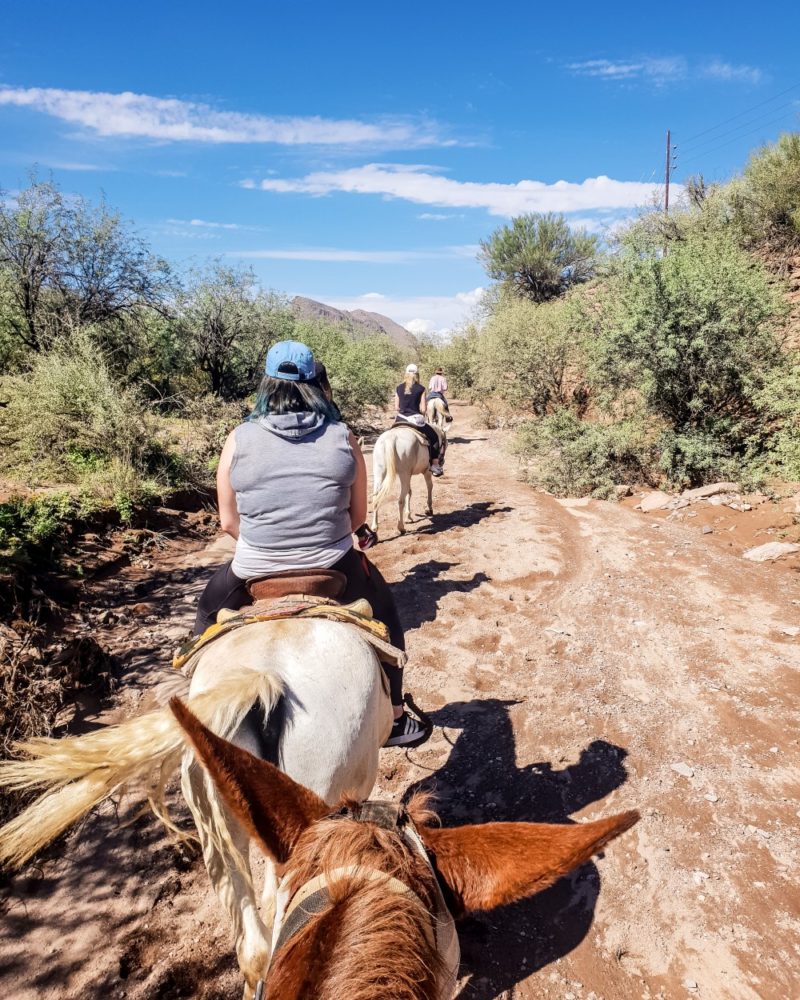 At points, the terrain got a little challenging, and I felt slightly unstable – but trust me, the horses have got this balancing act down. Some did a little trot when they were coming up to a hill, which freaked me out a little first, terrified Molly was going to bolt. But turns out, it was all fine. There was little need to control them, as they were well versed in the trails. Although at points, I did need to give Molly a slight pull in the right direction…
It took around 2 hours for the full ride, and it cost $70 – money well spent for such a unique and exciting experience.
Once we'd made it back from our desert riding adventure, it was time to chill, with an afternoon trip to Lake Pleasant. Aptly named, as this man-made lake is rather pleasant indeed. Dipping our toes, and eventually the rest of our bodies, into the cool water, it was the perfect way to relax and return my slightly riding-bowed legs to normal.
As the sun set, we headed to the ranch for dinner. Beside a roaring fire, I drank wine and tucked into a delicious steak meal, all cooked the traditional Western way with no modern appliances. After camp fire chats, guitar singalongs and a bit of fire poi, we stumbled into our nearby tents, and slept in the quiet calm of the desert.
Although anyone can saddle up at Betty's Trail Rides, the overnight stay and campfire dinner is exclusive to TrekAmerica, which made it all the more special. These are the kind of experiences that really make a standard holiday meaningful, and the chance to meet the team at Betty & Rusty's and hear their stories was something to savour and remember for a long time to come.
We visited Betty & Rusty's Cowboy Camp on the TrekAmerica Westerner tour.
Betty's Trail Rides
N Castle Hot Springs Rd, Morristown, AZ 85342,
Website