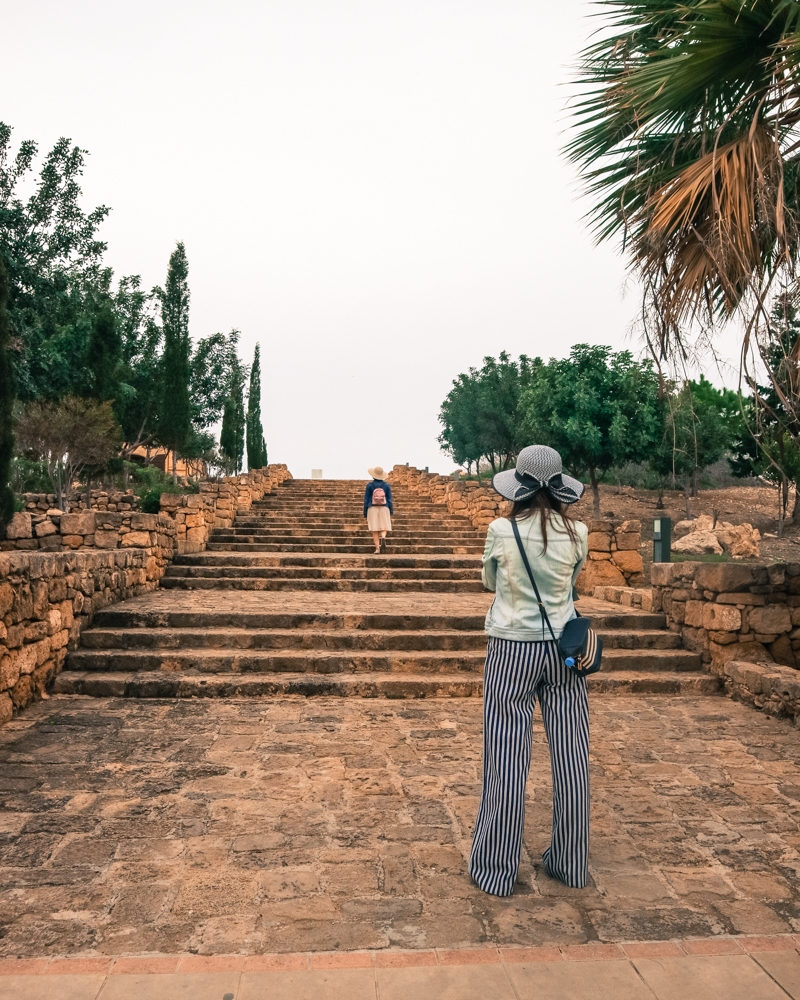 After Bucharest last year and Cyprus this year, I fully declare February the month of the the GIRLS' TRIP. On our third day of our short break, after we'd got active and stuffed our faces at the Aphrodite Hills resort the day before, we jumped into our rental cars to explore the city of Paphos. Mediterranean and mysterious, I was looking forward to getting to know it a little more.
Some of the girls weren't that keen on Paphos – and in some ways, I can understand why. For a start, we were there in off-season, and as much as I dislike streets that heave with the visiting hordes, parts of it felt a little…underwhelming? But actually, now I look back on it, there were a fair few things to like.
Honestly, with the shortness of our trip in general, I don't think I had the time needed to fully get to know the city. Because I think, with a bit more time, I'd have actually rather liked it. Having said that, there are a few things to do in Paphos that I enjoyed from our flying visit…
Take a walk around the Old Town
I quickly came to the conclusion that Paphos isn't a 'rush round and see EVERYTHING' kinda place. Instead, the vibe here is more chilled, suited to slow strolls and pavement cafes. The Old Town area is the main place that we spent our time in, as the idea of it appealed to us more than the more touristy areas and beaches. Also, definitely not beach weather.
The Old Town is a lesser-trod area for your standard tourists, and having now read up on it a little more, also not somewhere locals tend to populate during the daytimes. Which means if you want to check out the streets here, you've almost got the place to yourself. Elements of the town seemed to feel run-down, but there were also some real highlights. One of the best parts of the Old Town…
Discover colourful street art
One thing that surprised me about Paphos' Old Town is the amount of impressive street art that adorns the walls. It's a colourful contrast to the more muted tones of the buildings here; bright and bold murals that stretch to the heights of multiple story buildings. You'll discover a real hodge-podge of styles too, from the striking Aphrodite mural to a tapestry of handmade dream catchers.
Shop at the market
While the indoor market may not have been as impressive as we'd expected, it was still a fun way to while away the hours – and I'd assume it gets bigger and more lively when the summer months come in. Bargains can be found for everything from shoes to traditional Cypriot sweets (€1 a pack? I'll take four…). Erica splashed a little cash on a bag of doughnuts from a small stand – which turned out to be rose flavoured and divided the opinion of the group pretty significantly. And, of course, I picked up my traditional fridge magnet souvenir. With a donkey on, because, well. Cyprus.
Eat at Laona Restaurant
All that photo-taking definitely makes a group of girls peckish – and ever the food-hunter, I whipped out my phone to check in for Paphos' best places to eat. And basically, if you eat at one place in Paphos – make it Laona. Seriously, this was some REALLY BLOODY GOOD FOOD.
Seated outside in weather just cool enough that my jumper stayed on, crisp and fresh salad made the perfect starter – anyone else realised yet how much better tomatoes taste in the Mediterranean, btw? Accompanied by a glass of red wine, obv.
To say something is one of the best things I've ever eaten on a holiday is a HUGE accolade, but I honestly think Laona's Lamb Kleftiko comes pretty highly rated in those stakes. Ridiculously tender and lightly seasoned, the full flavour of the meat was perfect with the simple rice and my glass of red. There were potatoes on the plate too – double carbs? I'm here for this.
Kato Paphos Archaeological Park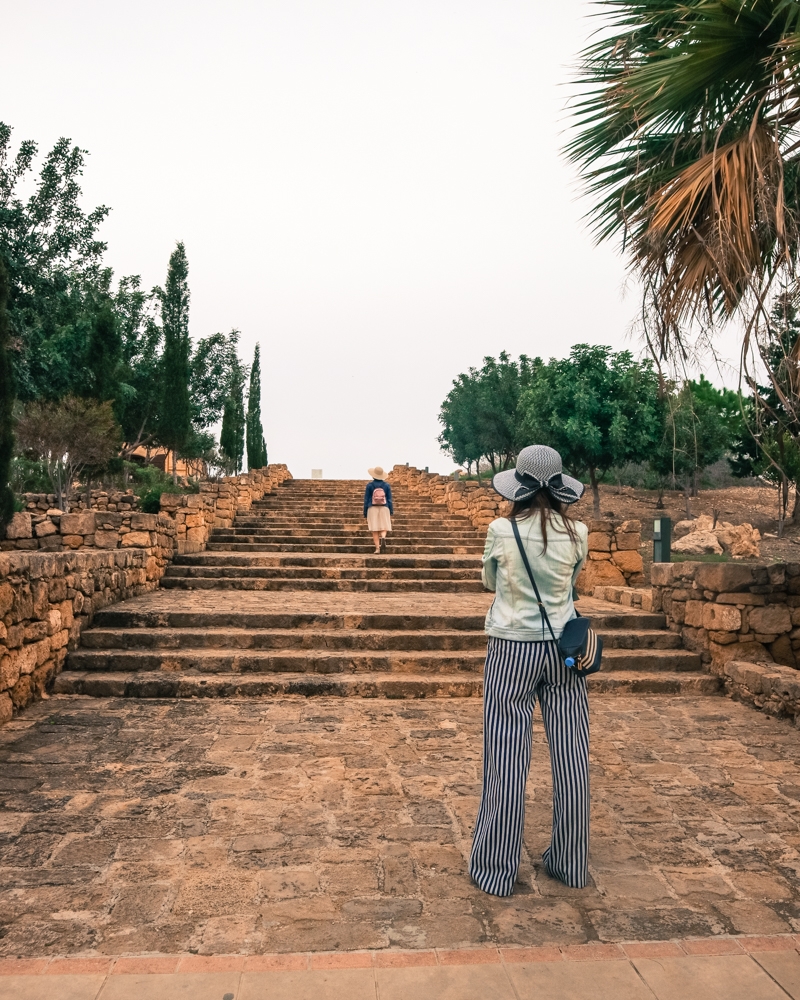 Aka 'getting our history on'. This UNESCO World Heritage Site is a sprawling expanse of archaeological ruins that span from the prehistoric times to the Middle Ages, with the majority being from around the Roman era. Some of the buildings are basically just a pile of rubble, but there are also well-preserved mosaics, columns and an impressive amphitheatre. It's pretty cool, and worth a wander when you're looking for things to do in Paphos.
Explore the Tombs of Kings
Another UNESCO site, the network of tombs that make up the Tombs of the Kings date back as far as the 3rd century BC. They're actually pretty well preserved for the most part, and visitors can actually go inside many of the tombs below ground level. Embracing my inner Lara Croft, I felt like a proper adventurer. The tombs were influenced by ancient Egyptian tradition, with open atriums and some of the decorative features that still remain.
(Slightly disappointing) FACT TIME, no actual kings were buried here – instead, it was high ranking members of society that were laid to rest within the tombs.
There's definitely a bit of a creepy feel here, particularly when you're visiting in low season and there's no one else really around. And especially when you wander down some steps, into a dark corner, and hear a flapping noise. I decided it must be a bat, and 'nope'-d the hell outta that one. Enough tomb raiding for me for the day!
– – – – – – – – – – – – – – – – – – – – – –
I mentioned this earlier in the post, but I really do feel like I didn't get the chance to embrace Paphos as fully as I should have done. At the time, I didn't think I was particularly impressed with it all – but in hindsight, I could have given it a bit more love and attention. The whole day was probably a bit of a rush to see as much as possible in a short time, and I don't think Paphos is the right kind of place for fast travel. It may not be top of my 'to-do again' list, but I haven't ruled out a further visit some day in the future. Although next time round, I'd choose to visit in sunnier times!