Oh hello. I'm finally getting to the end of my current line-up of posts from the States (except, I'm sure there are loads more little bits to share still). I've done city guides, foodie posts, and I thought I'd try a little something different – and hopefully helpful if you're planning on taking specific trips that I've done.
Having been on quite a few TrekAmerica trips now, with posts about various spots along the way, I feel like it's an area I can definitely tell people about quite well. As well as being a good place to find further posts that go into more depth, I thought it could be helpful for anyone debating taking one of the tours I've done to put together some day-by-day itineraries of what you might expect from a tour.
In the interests of full disclosure – I do now work for TrekAmerica, however this post is made 100% outside of my working hours, with no obligation for me to do so as part of my job! So this isn't a sales pitch and I don't personally get anything extra out of you booking because of this post – but hopefully it'll give some insight into the type of itinerary and what goes on if you're considering a trip.
I'm starting off with the Atlantic Dream – a 14 day East Coast road trip from New York to Miami.
It's worth noting that although locations don't change by departure, the activities there are often planned by the tour leaders, as well as roadside stops and recommendations. So you'll never have the exact same trip as I did. Which actually, is really awesome.
Day 1 – New York > Philadelphia > Washington D.C
First things first. If you're hoping to spend some time in New York itself, most Trek tours that start there won't go into the city. So make sure you book extra time before your trip to go wave at Lady Liberty and ensure your suitcase is already above the weight limit before you even go anywhere else.
As with the majority of Trek tours, I met my group and our leader Chad at 7.30am in the hotel, which was actually in Newark, rather than NYC itself. After this, we got straight onto the road to our first stop, Philadelphia. Where it's always sunny. At least, it was when we were there anyway.
First stop was whacking Eye of the Tiger on in the van as we hit up the 'Rocky Steps'. I haven't watched the film for many, many years – but it didn't stop me running up the stairs and taking a snap with the Rocky Balboa statue.
Next up, Chad took us on a bit of a walking tour of the city centre. We saw the Liberty Bell (through a window, because the queue was looong), and took in the 'mural mile', where there was loads of amazing street art.
That night, we set up our tents for the first time in our campsite. If you're a bit nervous about the whole camping and setting up tents side – don't be! Chad took us through how to set them up, then helped us out with our first attempts. The tents are really easy to put up, and after we'd done that, it was time for dinner and campsite bonding.
Read more: It's Always Sunny in Philadelphia
Day 2 – Washington D.C
Hello, the capitol! From our campsite nearish the city, it didn't take long to drive in, and the first adventure of the day involved two wheels. We took a Bike and Roll bike tour of the main Washington DC sights, and it's a great way to see lots of the city's major hitters when you don't have long to spend there. I waved at the White House (this was during those good old Obama days), got up close to the Washington Monument and felt the emotion of the WWII memorial, which is truly stunning and really moving.
Afterwards, a few of us made our way to the Natural History Museum. I pottered off on my own to the IMAX cinema because HELLO 3D DINOSAUR FILM. Unfortunately, the exertion of the past two days got to me, and I'm ashamed to say I had a little snooze during it…
That evening, back at our campsite, we took advantage of the site's pool and soaked up some sun whilst splashing about. A perfect end to a second evening.
Read more: Sightseeing on Two Wheels in Washington, D.C.
Day 3 – Appalachian Mountains
Even though the itinerary says this day will be spent in Shenandoah National Park, we actually spent lots of time driving through the Appalachian Mountains area, stopping off at some hiking spots, a river to dip our feet and, strangely, a fish farm. Although there's a set itinerary of locations, TrekAmerica tour leaders often have their own stop-offs and roadside attractions to take you to, which means no two Treks will be exactly the same!
On our way, we had our first WalMart visit. Which was a) super cool, cause OMG WALMART, and b) the place where we picked up our food supplies. On TrekAmerica camping trips, everyone pays a 'food kitty', which is used for all food while camping. The group were split down to smaller groups, and given two nights each to cook dinner. The other two small groups were responsible for washing up and cleaning the van, on rotation.
If you're used to luxury travel and being catered for, this might seem a bit out of your comfort zone – but the participation element really bonds the group. We cooked some awesome meals, and enjoyed them with a beer around the campfire. True road trip style!
Day 4 – Ocoee River
One of the most fun (albeit slightly terrifying) parts of the trip was white water rafting on the Ocoee River. It's an optional activity, which means it's not included in the trip price, but most of us decided to do it. And I'm SO glad I did!
In the evening, we met up with another Trek group who were staying at the same campsite, and headed to a bar. And oh boy, it really was a proper American dive bar. Basically a barn in the middle of nowhere, selling beers from chest fridges. And we were pretty much the only customers, so we took over, had a dance and made new friends, before I walked back to camp barefoot because I was wearing REALLY stupid shoes.
Day 5 & 6 – Nashville
Ooof. Nashville. We had two nights here, staying in the Downtown Hostel – which was a nice respite from sleeping under canvas, I have to say. The hostel has such a cool vibe – the foyer has communal seating, board games and instruments, as well as a kitchen to make breakfast in.
Once we'd settled in, it was straight out onto the town with a spot of line dancing at the Wildhorse Saloon. Where I hurt my foot, which had only just about mended from the dodgy shoes. Whoops. In the honky-tonk Broadway bars, we drunk plenty, danced lots and enjoyed live music that spilled out into the streets.
Our second day in Nashville was a 'free day' – which meant Chad got to have a bit of a rest while we explored the city. The Country Music Hall of Fame Museum was a must, and I loved learning more about the music we'd been listening to since we arrived. In the Gulch area, we checked out the street art, and Jack White's Third Man Records.
We also had dinner at Acme Feed and Seed, which is one of my favourite places I've eaten in the States. The roof terrace looks out over Broadway, and it was an amazing place to watch the sun go down on this lively city.
Read more: Falling in Love With Nashville, Nashville's Country Music Hall of Fame
Day 7 – Memphis
It wasn't actually until I visited for the second time, after this trip, that my full appreciation for Memphis came to light. On this trip, we arrived early afternoon, and after setting up our tents (in the baking heat), I took an optional visit to Graceland. Only two of us went, while the rest of the group stayed and relaxed at camp – but I'm so glad I did. I'm by no means an Elvis super fan or anything, but to see his home as he lived in it was absolutely fascinating.
That night, we headed for dinner at Chad's recommendation, Rendezvous BBQ. He sorted out the reservation, and we gorged ourselves on amazing BBQ ribs. It wouldn't be a night in Memphis without a visit to the infamous Beale Street, and we ended up listening to live music in Jerry Lee Lewis' joint. Pretty cool!
Read more: Memories of Elvis: Graceland Tour, Charlie Vergo's Rendezvous
Days 8 & 9 – New Orleans
New Orleans is bloody brilliant.
It's unlike anywhere I've visited before, and truly one of a kind. But before we got there, we took an included swamp tour. It was fascinating to see the half-submerged trees, and it got even better when the alligators came out to play!
On our first New Orleans night, we headed for the infamous Bourbon Street where I tried my first 'hand grenade' cocktail. Oh boy. They stroooong. More drinking and dancing ensued, followed by a bit of a hangover the next morning.
I particularly loved the place we stayed, the French Quarter Suites. We had an apartment to ourselves, and the girls commandeered the giant room upstairs, with sloping rooves and enough beds to house us all. It was basically like one giant sleepover!
The second New Orleans day was another 'free' day, and we spent it exploring everything the city has to offer. And eating po-boys, of course!
Read more: Exploring New Orleans, 10 Free Things to do in New Orleans, Four Places for Four Meals in New Orleans, Lafayette Cemetery No.1
Day 10 – Destin Beach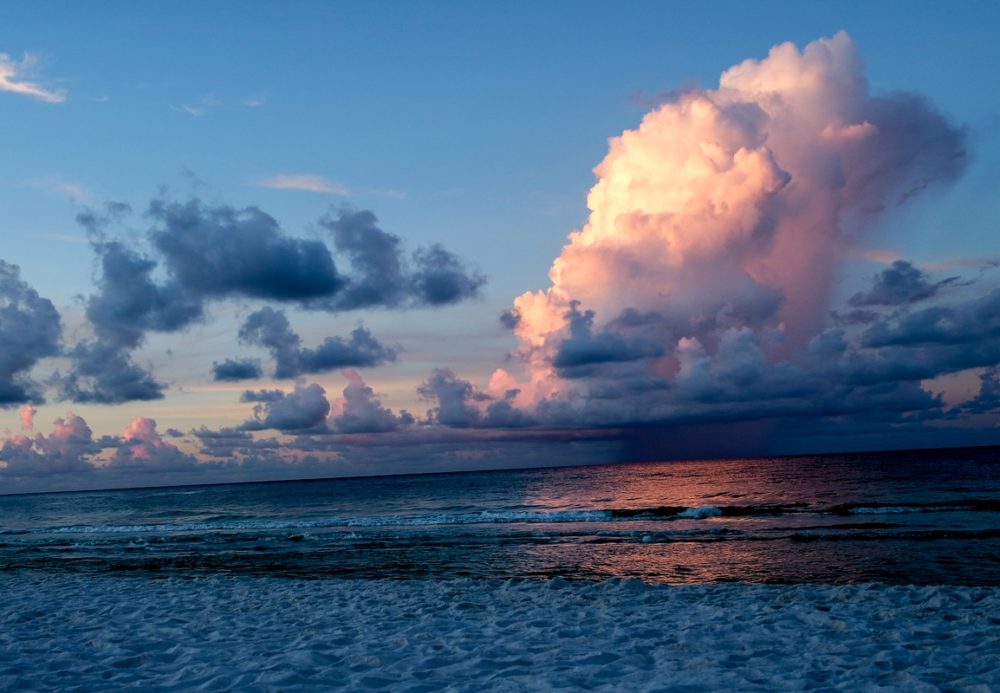 I'm not sure I've ever seen a beach quite as beautiful as Destin. Today was quite a lengthy drive day, but it was worth it to frolic in the sea as the sun went down.
Even more beautiful was the sunrise. We woke up at 5am to make the short walk from our campsite to the beach itself, and took in the stunning colours of the sunrise. I felt so happy and at home, that even a ridiculously early start couldn't phase me.
It was at this point I had a bit of a 'moment' over how lucky I am to travel and experience the things I do. I almost shed a tear, but I'm far too tough for that…maybe…
Day 11 – Florida
A much more relaxed day – we set up camp, then headed straight for a Florida spring (not a hot spring, like I'd thought) to enjoy the water and sunshine. It was really good to have a couple of more relaxed days after the hectic cities of Nashville, Memphis and New Orleans. And especially needed for what was coming next…
Day 12 & 13 – Orlando
ORLANDOOOO, I LOVE YA. The majority of the first 'Orlando' day on the Atlantic Dream tour was actually spent driving – although we had some stop-offs en route. However, the next day definitely made up for the long van day because OMG UNIVERSAL STUDIOS.
We were able to choose between Universal, Disney, or just entertaining ourselves. The entire group actually opted for Universal, and Chad drove us there and left us to our own devices in the park for the day.
I squealed at Diagon Alley, and might have shed a little tear as I walked through Hogsmeade (see, not that tough). It was such an amazing place, and I loved every second.
The place we stayed at was really nice too – the usual plan is camping, however, as the weather was SO hot and humid, we ended up using a bit of the food kitty money to stay in a local cabin. Which was super welcome, because HEY THERE AIR CON. I have to say, I did struggle a bit with the heat at times – and I'm not usually bothered by hot weather. August in the south is really humid, which can make sleeping in tents a little tough.
Read more: Orlando, Florida: Universal Studios
Day 14 – Miami
Er, I didn't really warm to Miami that much, if I'm honest. But it was the last day of our tour, and after hugs goodbye, Chad dropped us at the end hotel, where we were free to spend the evening in Miami. My flight wasn't until the next evening, so two of us spent our post-tour day chilling on the beach with Mang-O-Ritas and jetskiing. Yeahh. Miami cliches.
Read more: Some Honest Thoughts on Miami
– – – – – – – – – – – – – – – – – – –
The TrekAmerica Atlantic Dream tour is really good if you like city life, with a bit of nature thrown in between stops. My first experiences of the Deep South were a blast, and it was amazing how much of the Eastern states we crammed in to a week. Sure, there were some long drives – but we definitely made the most of the time we had in each place.
And if you got this far…chances are you'll enjoy this trip too!
Would you consider the Atlantic Dream tour?