Making a trip to the theatre isn't something I do a lot when I'm travelling. Maybe it's the thought that I could catch something just as easily in London that puts me off? Or is it something else? Honestly, I'm not sure. As someone who often bemoans the lack of things to do of an evening when travelling that isn't 'going to a bar', the theatre actually makes total sense. I love theatre. I've worked in it, I've been to countless shows, yet it's not something I give a second thought to when I'm away.
And y'know what? I actually feel like I've been making quite the mistake doing this. On my recent trip to Berlin, I visited the Chamaeleon Theatre to see Scotch & Soda by Aussie physical performers Company 2, and it was the actual perfect evening experience for a weekend city break.
The Chamaeleon Theatre is tucked away in the Hackesche Hofe, a maze of courtyards and small streets north of the river. The Art Noveau style building that holds the theatre is a pretty impressive sight – with pretty white and blue tiles patterning the walls. It's a gorgeous building, hosting shows that are known for their innovative, contemporary performances.
Unlike a lot of small, independent theatres in the UK, shows at the Chamaeleon are long-running, with the same evening in residence for months at a time. Which means it's a lot easier to catch a show you've read about, and gives an idea of how popular and enjoyed they are that they're able to keep running for so long! We were welcomed by manager Hendrik, and whisked up to the balcony for some of the best seats in the house. Along with prosecco and cheese. Faves.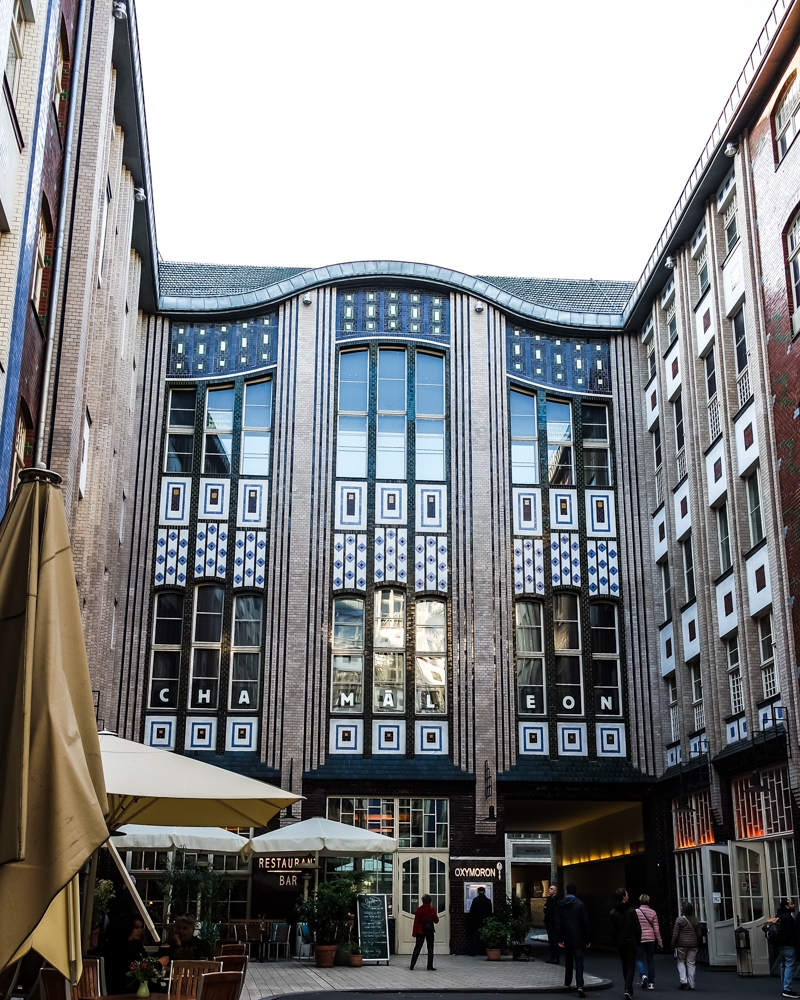 The show itself was a fusion of circus, physical theatre and live music, creating a party atmosphere on the stage that spread to the audience. Seated around tables rather than in traditional rows, it was a real throwback to the jazz clubs and speakeasies of yore, which gave the performance a more relaxed, casual feel – the type you'd experience at a cabaret or burlesque performance. It's the kind of place you'd imagine coming with your best girls or boys, grabbing a bite to eat and a bottle of wine beforehand. Welcoming and warm, it's a far cry from what you might expect from more traditional theatre atmospheres – especially good for those who aren't usually big-time theatre-goers.
The cast are all super talented and impressively athletic. HELLO MUSCLE DEFINITION. There were definitely some moments where we watched from behind our hands during daring balancing acts, and performers had a great knack for injecting real personality into their acrobatics. There were some really funny and slapstick comedic turns, in particular the absolute drama of getting toilet roll stuck on your shoe, demonstrated in impressive physical form. The wit and humour in the show definitely translated well to us, as the company are English-speaking so demonstrate a lot of similar comedy interests as us Brits.
The big, group numbers impressed, with bodies flying all over the stage, multiple people balancing on a bicycle, and great character acting alongside the physical and musical performances. Solo musical moments allowed for the pace to meander and give a break from the energetic actobatics, but the performers also interacted really interestingly with the musicians.
The atmosphere at the Chamaeleon Theatre was wonderful, and its location perfectly lends itself to an evening out exploring the area and tucking into some dinner after the show. Scotch & Soda is lively and fun, performed by a talented cast with infectiously high energy, and I'd totally recommend seeing it in Berlin if you get the chance.
Chamaeleon Theatre
Rosenthaler Straße 40/41, 10178 Berlin, Germany
chamaeleonberlin.com
*I was a guest of Chamaeleon Theatre for the show – all thoughts honest, as always!